Issue

October - November 2021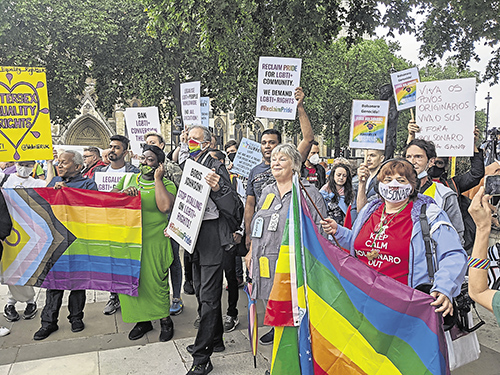 On 24 July, 2,500 members of the LGBT+ community gathered in Parliament Square in Central London for a #ReclaimPride march.
Organised by legendary gay rights activist Peter Tatchell, the demonstration had five key demands: ban LGBT+ conversion therapy; reform the Gender Recognition Act; ensure a safe haven for LGBT+ refugees fleeing persecution; decriminalise LGBT+ people worldwide; and, finally, solidarity with Black Lives Matter.
Before a march to Hyde Park, Peter Tatchell told the assembled crowd: 'Pride can be a celebration, but it must also be a protest.... for the unfinished business here in Britain, and to stand in solidarity with LGBT+ people worldwide.' He continued: 'the people's pride must be free and accessible to everyone'.
Tatchell was joined by speakers from Lesbian Visibility Week and UK Black Pride.
Protesters paused at Downing Street to demand that Boris Johnson 'stop stalling on LGBT+ rights'. The march was followed by a 'queer picnic' in Hyde Park. Reclaim Pride hopes to become an annual event.