Issue

October - November 2021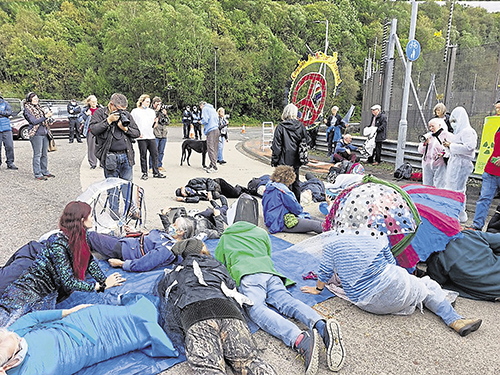 On 16 September, two Faslane Peace Campers had the case against them thrown out of Dunbarton justice of the peace court. One of them had spent nearly six weeks in prison on remand, waiting for the trial.
Willemien Hoogendoorn and Jon had been arrested for 'breach of the peace' on Hiroshima Day, 6 August, after blockading the North Gate of Faslane nuclear submarine base from 6.30am till around 12 noon.
According to the Helensburgh Advertiser, 'tailbacks were reported in the A814 area during the morning rush hour'.
Willemien and Jon said they took the action 'in remembrance of Hiroshima Day and to point out the lies from government, in particular the promise to reduce nuclear arms when they are now doing the opposite.'
Willemien refused the bail conditions offered on principle and was remanded to Cornton Vale prison until the trial on 16 September. The case was dismissed as 'no case to answer'.