Issue

June - July 2021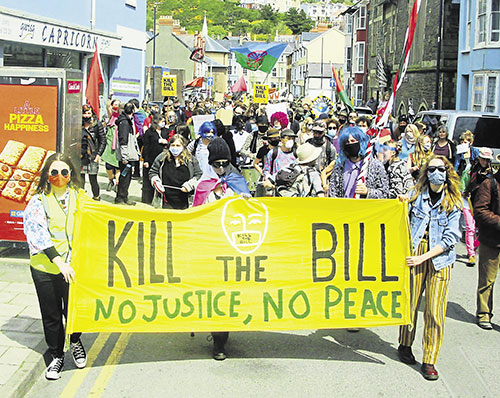 Repeated colourful protests against the proposed Policing, Crime, Sentencing and Courts bill have taken place in Cardiff, Haverfordwest, Cardigan, Aberystwyth, Wrexham, Bangor and many other towns across Wales from 3 April.
Ceredigion Against the Policing Bill (CAPB) organised their third well-attended demonstration in Aberystwyth on May Day with speakers including Ben Lake MP, Cammilla Mngaza from the Free Siyanda campaign, and Hilary Brown, lawyer and civil rights campaigner for ethnic minorities in Wales.
In Cardigan, the protest included many first-time demonstrators. A local builder said: 'I've not been political in the past, but I am now. This bill would turn people who disagree with the government into criminals simply for standing up and saying they disagree.'
One woman noted how protest and demonstrations have brought positive changes to the UK for centuries: 'The suffragettes brought votes for women a hundred years ago, while Extinction Rebellion caused the government to declare a climate crisis and to start to take the catastrophe seriously in 2019. The Black Lives Matter protest last year forced the debate over institutional racism in the UK, and the Reclaim the Streets/Sisters Uncut vigils following the death of Sarah Everard in London highlighted the vast scale of sexual harassment of women around the country. Under the new bill, participation in any of these demonstrations could lead to 10 years' imprisonment.'
Another demonstrator said: 'Anyone who enjoys walking in our national coastal parks should thank those who organised the mass trespass and civil disobedience demos of the 1930s.'
All demonstrations reported restrained policing. Tom Fowler in Cardiff said: 'The police have been very hands-off .... I think it has been a much better protest for it.'
The protests are set to continue, building up to a People's Assembly mass demonstration in London on 26 June.