Issue

June - July 2021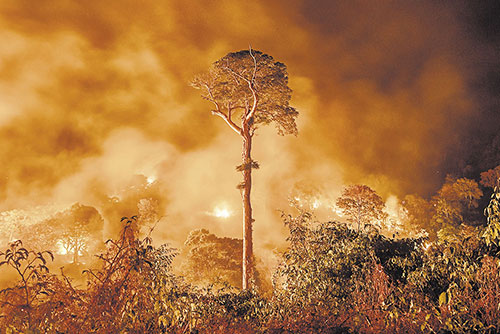 A fire burns out of control in Maranhão state, northeastern Brazil, in this striking image from the 2020 Wildlife Photographer of the Year exhibition – one with a salutary message for all of us in this crucial year for the earth's climate, writes Gabriel Carlyle.
The fire would have been started deliberately to clear a logged area of secondary forest for agriculture or cattle farming, leading Charlie Hamilton James – who has been covering deforestation in the Amazon for the past decade – to describe the single tree left standing as 'a monument to human stupidity'.
Begun in 1964, the annual competition and exhibition features incredible images from across the world: from shrimps nestling in a brain coral and a young ibex leaping a ravine, to a Zen-like proboscis monkey and the alien landscape of California's densest oilfield.
A showcase for the work of professional and amateur photographers alike (including a very impressive 'Ten years and under' category) the 2020 competition received almost 50,000 entries.
Lockdown has meant that the physical exhibition at the Natural History Museum, London, has been inaccessible for much of its originally planned run. However, after re-opening on 17 May, it will now continue until 1 August.
If you can't get to the museum, you can view 1,177 images from the last 11 years of the show online: www.nhm.ac.uk/wpy/gallery
If you're able to get there safely, and book in advance, the physical exhibition is always stunning if pricey (adult £14.95 / child £8.95 / concessions £11.95). Make sure you leave plenty of time, though, as it can't be rushed! Natural History Museum, Cromwell Rd, London SW7 5BD; 020 7942 5000; www.nhm.ac.uk