Issue

June - July 2021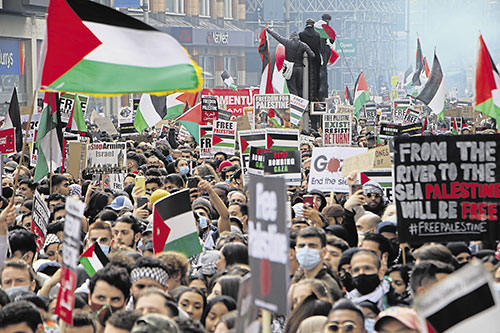 As PN went to press, Israeli airstrikes and artillery fire on Gaza had claimed nearly 200 lives, and Palestinians were fearing another ground assault.
Shortly afterwards, on 21 May, after 11 days of violence, the Israeli government and Palestinian militants in Gaza accepted a ceasefire.
Hamas, the Palestinian armed movement which rules Gaza, had first proposed a ceasefire on 12 May. This was rejected by Israeli prime minister Benjamin Netanyahu. An Israeli cabinet minister told the Israeli news site Ynetnews: 'The campaign is still far from over. Whatever we don't do now, we will have to do in six months or a year from now.'
Tor Wennesland, UN special co-ordinator for the Middle East peace process, said on 16 May that 181 Palestinians and nine Israelis had been killed so far in the conflict. That overall ratio of 20:1 conflict deaths was maintained in the remaining days of the crisis.
By the time of the ceasefire, 13 people had been killed in Israel by Palestinian rockets, including two children. In Gaza, the UN verified that at least 242 Palestinians had been killed, including at least 66 children.
On 15 May, over 100,000 people marched in London against the Israeli military campaign, and demonstrations took place across the UK.
Also on 15 May, Israeli airstrikes levelled the 11-storey al-Jalaa tower in Gaza, which had been evacuated after an hour's warning. The building contained international media offices, including for the Associated Press (AP).
On 17 May, US secretary of state Antony Blinken said that he hadn't seen any evidence to support the Israeli claim that the Palestinian group, Hamas, were operating in the tower.
AP said they had never had any indication that Hamas might be in the building during their 15 years there.
On 16 May, Israeli airstrikes killed 42 people in the al-Rimal neighbourhood of Gaza city. The strikes, allegedly on underground Hamas structures, brought down three residential buildings.
UK arms Israel
Campaign Against Arms Trade (CAAT) point out that the British government has licensed the sale of over £400 million-worth of military equipment to Israeli forces in just the last five years.
According to CAAT, these licences have included 'many weapons & components that are likely to be used in this sort of bombing campaign'.
CAAT is calling for an investigation into whether British arms were used in the latest violence, pointing to earlier incidents.
A government review in 2014 found 12 cases where arms containing British components might have been used in the bombardment of Gaza that year.
British-made arms were 'almost certainly' used in Israel's 2009 assault on Gaza, according to the then-foreign secretary, David Miliband, speaking in 2010.
The latest round of conflict began with the attempted eviction of Palestinian families in the Sheikh Jarrah neighbourhood of Jerusalem and the storming of the al-Aqsa mosque by Israeli police.
This was met with rocket fire by Hamas and Palestinian Islamic Jihad, leading to Israeli airstrikes.