Issue

March 2021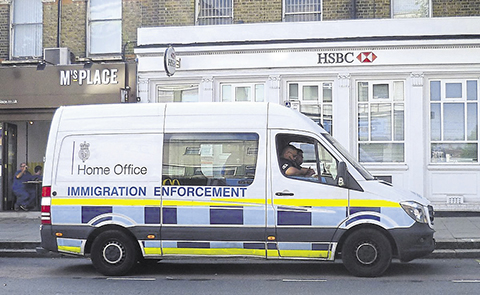 The home office's 'hostile environment' immigration measures were a breach of the ministry's public sector equality duty under the Equality Act 2010. That was the conclusion of the British government's own equality and human rights commission (EHRC) in a report published on 25 November.
The EHRC also found that the home office had a 'perfunctory' approach to its legal duty to ensure its policies complied with equality legislation. 
The Oxford dictionary says that 'perfunctory' means an action 'carried out without real interest, feeling, or effort'. It gives these synonyms: 'careless', 'hasty', 'superficial', 'half-hearted', 'uninterested' and 'offhand'.
The EHRC report found that the home office failed in its legal duties towards black Britons, with the harsh effects of the 'hostile environment' crackdown 'repeatedly ignored, dismissed, or their severity disregarded'.
Windrush
On the Windrush scandal, the report found that ministers failed to listen properly to protests from members of the Windrush generation, 'even as the severe effects of hostile environment policies began to emerge.'
The 'Windrush' generation are those people who arrived in the UK from Caribbean countries between 1948 and 1973, including on HMT Empire Windrush in 1948. 
Hundreds were wrongly detained, deported and denied legal rights because they could not produce official documents they had never needed before, when this was demanded under 'hostile environment' policies. 
'The treatment of the Windrush generation as a result of hostile environment policies was a shameful stain on British history,' said Caroline Waters, interim chair of the EHRC. 
The home office has renamed its hostile environment measures as 'compliant environment' policies.
The EHRC has asked the ministry to ensure the policies are line with equality legislation, particularly with regard to race.