Issue

March 2021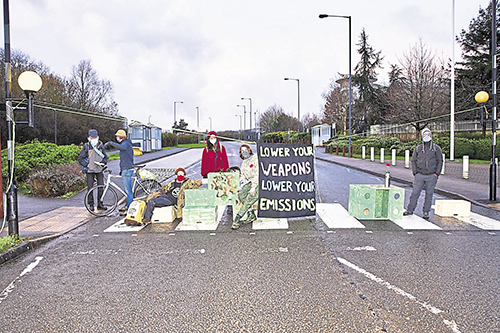 On 11 December, protesters from Extinction Rebellion Bristol and Christian Climate Action blockaded the headquarters of the defence equipment and support organisation (DE&S) at Abbey Wood, near Bristol.
Sita Ruskin of Bristol XR told the Bristol Post: 'We're here to say to our government: "spend our money on combatting climate change – not on putting weapons into combat".'
DE&S supplies both lethal and non-lethal equipment to the navy, army and air force.
The date was chosen because it marked the fifth anniversary of the Paris Agreement under which the UK joined 196 countries in pledging to work to try to keep climate change to below 1.5 °C. 
According to the demonstrators, the UK has committed to £24bn worth of military spending over the next four years, but is only spending £12bn on 'green recovery' investment.
The 'COVID-compliant' blockade started at 7am when protesters put up roadblocks across the three access roads to the site. They locked their arms together as well as to wooden towers and a tripod. Banners included: 'Invest in Life, not Death.'
Police managed to remove the protesters by late morning, arresting two: reverend Sue Parfitt and Gaie Vella.