Issue

March 2021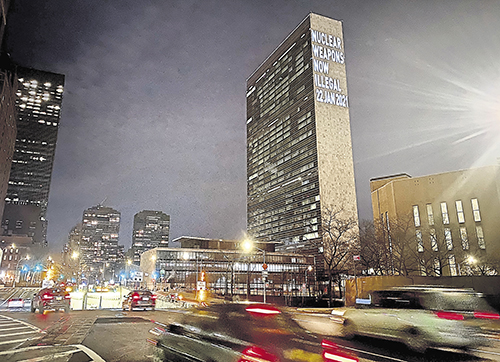 A majority of people in Britain think that the UK should sign up to the UN's nuclear ban treaty, which entered into force on 22 January. 
That was the finding of a Survation poll commissioned by the Campaign for Nuclear Disarmament (CND), Britain's largest peace organisation by membership.
Survation found that 59 percent of the British public thought the UK should sign up to the Treaty on the Prohibition of Nuclear Weapons (TPNW), and 77 percent supported a total global nuclear weapons ban.
Peace campaigners around the UK celebrated the TPNW's 'entry into force' (EIF), including with bell-ringing – church bells were rung in many places including at Iona Abbey in Scotland and St James' Piccadilly in London. Also in Scotland, massive messages were projected onto iconic Edinburgh buildings, including 'The World is No Place for Nuclear Weapons'. 
PN columnist Penny Stone, the radical Scottish song leader, organised a virtual three-minute 'ICAN Can-Can' (words by Jane Lewis) to celebrate the EIF. 
Penny spliced together video clips of people around the UK dancing (including in the sea). 
She's described the result as 'wonderfully daft'.
Luton peace activist Lynn Bliss took her daily exercise while wearing a sandwich board telling Luton about the EIF – she was interviewed for 10 minutes on BBC's Three Counties Radio.
Around the world
The global coalition most responsible for the TPNW coming into being, the International Campaign Against Nuclear Weapons (ICAN), held over 710 events around the world to mark the EIF, including an online public meeting featuring Noam Chomsky.
The TPNW EIF was greeted with enthusiasm by civil society groups around the world, including the International Committee of the Red Cross and other international health bodies, who said, in a joint statement: 'The climate crisis and COVID-19 pandemic have brought into sharp relief the crucial need for timely international cooperation driven by evidence and expert warnings, to safeguard the health and security of people.'
ICAN commissioned a poll in six NATO countries which found even stronger majorities in favour of joining the treaty.
When asked: 'Do you think your country should join the UN Treaty on the Prohibition of Nuclear Weapons?', YouGov got a 'yes' from 89 percent of Spaniards, 87 percent of Italians, 86 percent of Icelanders, 78 percent of Dutch and Danish folk, and 77 percent of Belgians. Some of these countries host US nuclear weapons on their soil. Strong majorities wanted those nuclear bombs removed: 74 percent of Italians, 58 percent of Dutch respondents and 57 percent of Belgians. 
A poll last June for Greenpeace found that 83 percent of Germans also wanted US nuclear weapons removed from their soil – as required by the TPNW.