Issue

February - March 2020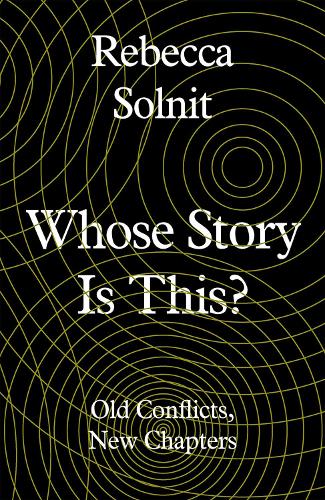 In the afterword to this, her latest collection of essays, Rebecca Solnit describes her book as 'in a sense, transcripts of my side of some conversations with the society around me as it undergoes tumultuous changes, with the changemakers winning some remarkable battles against the forces trying to protect the most malevolent parts of the status quo as it crumbles away'. These include both 'seismic activity in feminism, racial justice, climate action' (among other movements) and 'changing the public landscape right down to the street names and breaking old frameworks'.
This is the fourth Solnit collection that Granta has published over the last five years. Apart from the introduction, all but one of the pieces have appeared in previous versions, mostly in the Guardian and on the website Literary Hub.
Such collections often feel unsatisfactory, but that's not the case here – in part because these are mostly longer-form pieces, as opposed to 'columns', and because Solnit is such a wonderful writer, with ideas to spare. Also, the pieces do add up to more than the sum of their parts. Throughout, Solnit is attempting to 'see the [change that is taking place] and understand how it works and how and where each of us has power within it'.
'To change who tells the story, and who decides, is to change whose story this is', Solnit writes. The first – and longer – section of the book ('The Shouters and the silence') runs with this idea, focusing mainly mainly on feminism and gender.
Topics covered include male coercion of female partners in US elections, the online subculture known as 'incel' (whose supporters believe that men are 'entitled' to sex) and, of course, the #MeToo movement against sexual harrassment and assault.
As ever, Solnit is alive to the rich histories that have led us to our current moment, noting, for example, that 'an unfortunate consequence of the relative success of what got called #MeToo has been to imagine that something began at that point'. In reality, 'the reason women's stories were able to be heard and generated consequences was because of what came before: the long, slow work of feminism to change consciousness and to put women – and men who regarded women as human beings endowed with inalienable rights and the capacity to say things that mattered – in positions of power'.
'Dear Christine Blasey Ford: You Are a Welcome Earthquake' is an open letter to the US psychology professor who testified in 2018 that Brett Kavanaugh, a judge nominated by Donald Trump to sit on the US supreme court, had sexually assaulted her when they were both students.
In 1991, US lawyer Anita Hill testified against then-US supreme court nominee Clarence Thomas, alleging that he had sexually harrassed her when he was her supervisor.
Solnit notes that while Hill failed to prevent Thomas's appointment, 'her impact, like her voice, spread in all directions'. Indeed, 'by being a steadfast witness to her own experience', Hill prompted 'a searching national conversation about sexual harrassment that… benefited tens or hundreds of millions of women' in the US 'and will benefit the generations to come as they enter the workplace'.
The second, shorter, section of Whose Story Is This ('Origins') contains some of the finest essays in the book.
In 'City of Women' and 'Monumental Change and the Power of Names', Solnit highlights the fact that most cities are, literally, 'manscapes'.
For example, there are only five statues of named women in the whole of New York City, where 'few women have been memorialized in relatively recent street names' and (with one exception) 'no woman's name applies to a long boulevard' and 'no woman is a bridge or a major building'.
'Statues and names are not in themselves human rights or equal access or a substitute for them', Solnit writes, but they are nonetheless 'crucial parts of the built environment, ones that tell us who matters and who will be remembered. They furnish our imaginations and shape the sense of the past that we call on to determine what future to choose and whom to value and listen to in the present'.
In my favourite piece, the previously unpublished 'A Hero is a disaster', Solnit notes that 'the qualities that matter in saving a valley or changing the world are mostly not physical courage and athletic violence but the ability to coordinate and inspire and connect with lots of other people and create stories about what could be and how we get there'.
She observes that, while 'we like our lone and exceptional heroes', they don't give us much of a picture 'of how change actually happens and what our role in it might be, or how ordinary people matter'. Movies, she adds wryly, 'have not shown a lot of love for community planning meetings'.
Solnit readers will recognise many familiar themes here. Typically, these essays also contain some wonderful historical nuggets.
One that I was unfamiliar with was the story of Mary Ellen Pleasant, the 19th century Black abolitionist and entrepreneur, who reportedly helped to fund John Brown's famous 1859 attempt to initiate a slave revolt in the American southern states, and went on to fight a legal battle to integrate San Francisco's street cars following the Civil War.
Another nugget was the August 1970 action in a farming valley on the Laxa River in northern Iceland, in which community members blew up a dam to protect farmland from being flooded.
Following the destruction, 100 farmers claimed responsibility. None were arrested and the action led to new environmental regulations. Solnit observes that this is 'the only story I know of environmental sabotage having a significant impact, and it may be because it expressed the will of the many, not the few'.
For Solnit, 'the real work is not to convert those who hate us but to change the world so that haters don't hold disproportionate power and so that others are not sucked into the nightmare'.
To this end, Solnit encourages us to '[not] ask what will happen. Be what happens.' Uplifting and insightful, Whose Story Is This? helps us to do just that.