Issue

April - May 2019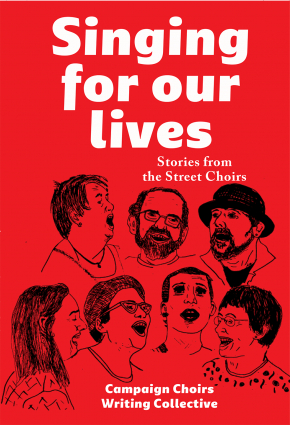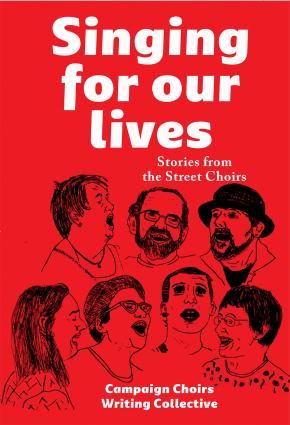 I must start this review with a statement of interest: I am a singer in the street choir / campaign choir movement. In many ways this makes me a more critical reader of this book, which collates the oral histories of over 40 voices from street choirs across the UK. It really matters to me that these stories are collected and made available, both to document the often unwritten history of ordinary people resisting social injustice, and to inspire others to become active!
The book details conversations with singers from across Wales, Scotland and England, grouped together by theme. Travelling from the hows and whys of street and campaign singing, passing through personal stories and experiences, and on towards the possibilities of a singing and campaigning future (even looking at what street singing might look like in the socially just world we seek to build).
The weaving together of these individual experiences has been skilfully done, guiding the reader not by one voice at a time, but through shared and personal experiences and how they converge and diverge in this diverse movement.
The ability for such diverse individual voices to come together temporarily to sing, to campaign for peace, for environmental or social justice, for Palestine, for women's liberation, is a true mirroring of the act of singing in harmony – if the notes weren't different, the sound wouldn't be so wonderful.
What Singing For Our Lives illustrates so well is connections: human connections, personal connections, campaign connections, musical connections. It doesn't just speak of what and why we sing, but how we organise, who we are as people as well as activists, and how we support each other as well as our campaigns. It speaks of how we try to build the better world we believe is possible while taking action for social change. And it talks about what hasn't worked well, and how we can learn from these experiences.
As such, this book should appeal to campaigners with or without a particular interest in singing as a campaigning tool. There is a balance of oral social history and personal stories, analysis of campaigning methodologies, and questions about how we organise to make the world more just – with a healthy sliver of hope running throughout. Hope is even included in the index!
The inclusion of an index pleases the archivist in me, and extends the use of the book for when we need to find inspiration from each other or find words to share on specific occasions. Well worth its £16!