Issue

April - May 2019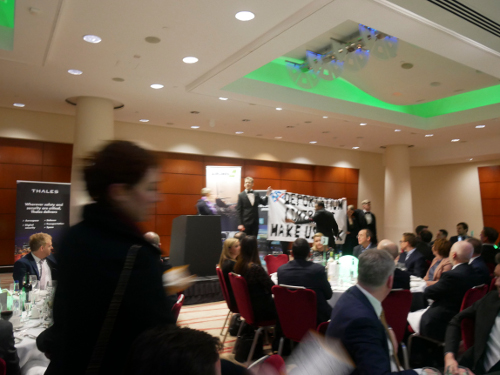 Park Plaza Hotel, London, 30 January. Photo: Lesbians and Gays Support the Migrants
On 30 January, 14 members of queer activist group, Lesbians and Gays Support the Migrants (LGSMigrants) handed out 200 sick bags to executives at an airline industry dinner in a central London hotel.
Four campaigners took to the stage, made a speech, and unfurled a banner saying: 'BA: deportation contracts make us sick' (see above). The Airlines UK 2019 gala dinner was attended by the head of British Airways, Álex Cruz – and by aviation minister baroness Liz Sugg.
Each year thousands of migrants are deported by the home office using commercial airlines. Last year, after pressure from LGSMigrants and others, Virgin Atlantic cancelled their contract for deportations with the home office. Now LGSMigrants are targeting British Airways.