Issue

August - September 2018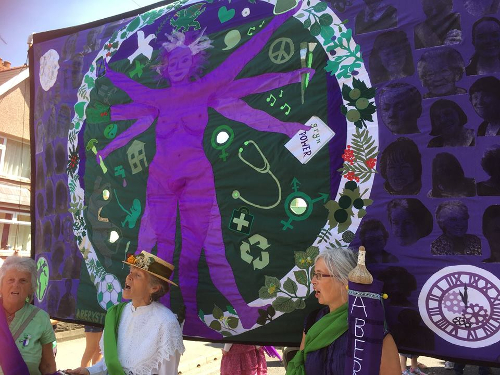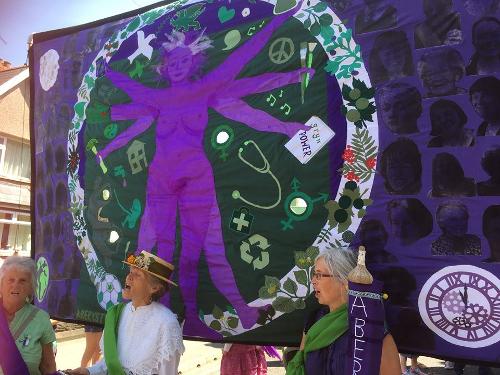 Everywoman goes to Cardiff. Photo: Lynne Dickens
On 10 June, there were processions of women and girls in Belfast, Cardiff, Edinburgh and London to commemorate the centenary of the Representation of the People Act that gave the first British women the right to vote.
Carried on these processions were 100 centenary banners, made by 100 women artists who had been invited to create them by working with communities across the UK.
As a textile artist, I make my own work for exhibition and also lead workshops for others of all ages and abilities. This project was a great opportunity to spend time being creative with others while learning about women's history and women's lives now.
Our banner was made in Aberystwyth by a group of women working co-operatively, which was unusual for most of us, slowly making a series of decisions. The only specification was that it had to about the hopes, ideas and concerns of women in the 21st century.
Everywoman
Beginning with the image of 'Vitruvian Woman' – which talks about proportion and the idea of perfection – we decided to make our woman life-size. [Around 1490, Leonardo da Vinci drew Vitruvian Man inside a circle and a square to demonstrate the ideal proportions of the human body, as proposed by the Roman architect Vitruvius – ed.]
Our woman is Everywoman. She holds practical objects in her six hands – a hammer, paintbrushes and pens, a scientific flask, a book entitled Grym/Power, a boxing/kitchen glove, and a mobile phone.
She is surrounded by and aware of nature – the ring of leaves and berries – and she is connected to the sun, moon, earth plus the passing of time.
The symbols within the circle are many of the things she cares about – issues vital in the lives of humans. Peace, water, shelter, the gender pay gap, health, fertility, periods, poverty (and much else) were discussed during the construction and sewing.
Around our Everywoman, supporting her, are pictures of mothers, sisters, friends and some prominent Welsh women from the arts, sciences and social politics.
One of the participants wrote: 'We enjoyed meeting together and creating something special so much that this may become something to continue.'
On 10 June, we took our banner to Cardiff. There was lots of singing on the coach, and singing while carrying our image through the streets. There were hundreds of other banners all with different ideas – fascinating to see.
Many participants have said: 'I still feel a warm glow when I think of that day.' The world could do with more warm glows.