Issue

February - March 2018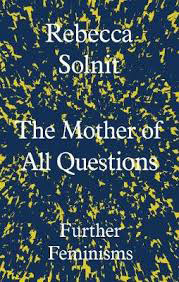 'There are specific ways in which people are silenced,' Rebecca Solnit writes in her latest collection of essays, 'but there is also a culture that withers away the space in which women speak and makes it clear that men's voices count for more than women's.'

Solnit is the author of the widely shared essay 'Men Explain Things to Me', included in a 2014 collection of the same name (see PN 2574), and is often credited with inspiring the word 'mansplaining'. In both collections, the silencing of women is an ongoing theme.Whether by disregarding women's intellectual expertise, or by discrediting the testimony of rape and domestic violence victims, Solnit observes, we live in a patriarchal culture which too often erases female experience. And the consequences can be deadly: 'Silence', she writes, 'protects violence.'

These essays were published prior to the recent explosion in accounts of sexual harassment that began with an onslaught of allegations against US film producer Harvey Weinstein. But, by examining earlier movements against harassment such as the widespread use of the #yesallwomen hashtag (a precursor to the recent use of #MeToo), Solnit is still able to explore – and, with some reservations, celebrate – the use of social media to amplify women's voices. There is optimism here – a sense that after years of struggle the tide may be turning and that the silencing of women may be coming to an end.

Solnit is an engaging, elegant writer, and this collection is a persuasive argument for feminist activism. But those already converted to the cause might not find much new to chew over. That sexual violence is a symptom of a deeply embedded rape culture, that women are frequently targeted with misogynistic abuse both on- and off-line, and that the necessary response to this is that women's voices are amplified and heard, is well-trodden ground in feminist circles.

This collection, then, might have most value to those who are less familiar with contemporary conversations around feminism. The essays are short, peppered with humour, and tend towards the personal rather than theoretical. It's an accessible collection with literary as well as political merit; not a radical intervention, but a timely reaffirmation that feminist work must continue.