Issue

October - November 2017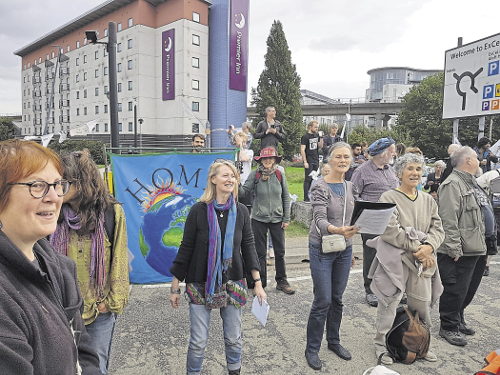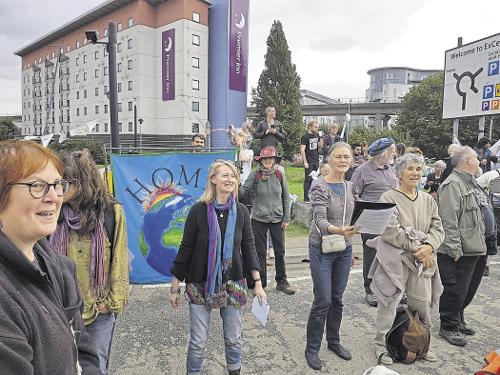 Welsh Borders join the Arms Fair protests. PHOTO: Richard Stafford
Not yet dawn. 10,000 dead in Yemen. (Drink and a blanket). One million homeless. (Packed lunch, cake?) £3.3 million spent by Saudi Arabia since 2015 on British weapons. (Remember the banner). 22 of us, mostly from a choir based in Presteigne in the Welsh borders, board our coach heading for the ExCeL centre in East London where Britain hosts its biennial international arms fair. We are coming to support the blockading of deliveries before the trading begins. For some of us it is our first demo, for most of us it will be the first witnessing of 'lock-ons'.
East London Dockland resembles an extended supermarket carpark. We are at the East Gate. Police vans and a knot of yellow jackets guard three people lying across the road. Their arms linked inside steel tubes and blocks of concrete, they are voluntarily making themselves vulnerable and powerful at the same time. It is extremely impressive and effective. (Could I find the courage?)
One blockade has been dismantled; another is forming, deliveries have been halted at both gates. 12 noon. We sing: 'The war machine rolls on and on' against the noise of hammers, chisels, drills, angle grinders. (Cannot imagine what that feels like, lying there so still; their willpower is amazing.) They have been lying here for nearly three hours. It is particularly moving to sing: 'I'm gonna lift my sister up, she is not heavy.… if I don't lift her up, I will fall down.' A man emerges from nearby flats with coffee and biscuits.
Another blockade at the West Gate. We form a circle and sing our hearts out, joined by other singers. We could sing on and on, but we must leave at four, it's a long way home.
We delight in messages from London that it had meant a lot we had come from Wales, that the singing had boosted morale at a tired moment. Here in the Borders we can feel a long way from 'the action'. Taking part in this protest reminded us all of our connections and the power of song to deliver not only the message but the emotion: 'we care about this'.