Issue

October - November 2017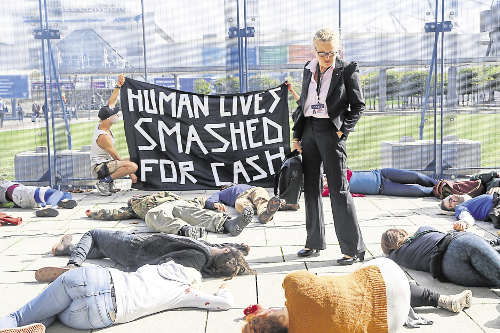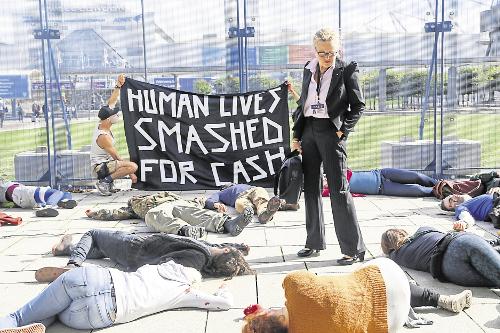 Die-in at DSEI arms fair, East London. PHOTO: Diana More.
Over the course of seven days in early September, thousands of activists from across the country descended on East London in a vibrant and colourful show of strength, solidarity and unity – to try to stop the set-up of the terrible DSEI arms fair.
Defence & Security Equipment International (DSEI) is one of the biggest arms fairs in the world. This year, it brought 1,600 arms companies to London and put them together with civil servants, government ministers and military buyers from some of the most brutal and repressive regimes in the world.
Creative action
During the week of action before DSEI opened, over 100 activists were arrested for taking action to block the set-up. They abseiled from bridges, locked-on to one another and did anything they could to stop the military equipment from being installed in the ExCeL Centre.
We have no doubt that the week of action was effective, with contractors telling us they were being paid overtime to work through the night because of the delays to the set-up. A strong social media campaign, and an increased level of mainstream media coverage, saw DSEI being put in the spotlight like never before.
The creative action didn't just take place on the streets though. One of the most inspiring forms of protest came in 'Art the Arms Fair', a unique week-long art exhibition in the London Docklands that brought thousands of campaigners and art-lovers together to create something positive, optimistic and beautiful. It saw powerful new work on display from Peter Kennard, the Guerilla Girls and even Banksy.
There is no doubt that those who took action against DSEI were doing so on behalf of the overwhelming majority of the country. New polling from Opinium shows that three-quarters of the UK opposes arms exports to human-rights-abusing regimes and dictatorships.
Public opinion is on side, and that is why we need to continue doing all we can to mobilise it: whether it is by taking part in direct action, working to get it in the press or writing to our MPs and pushing for it to have a greater voice in parliament.
UK arms exports don't just offer political and military support to those that buy them. They can also be deadly. Right now, UK-made fighter jets are dropping UK-made bombs on people in Yemen. It is for those being bombed that we need to act.
DSEI shows us the heartlessness and cruelty of the arms trade. DSEI fuels war, repression and injustice. It's time to shut it down for good.