Issue

August - September 2017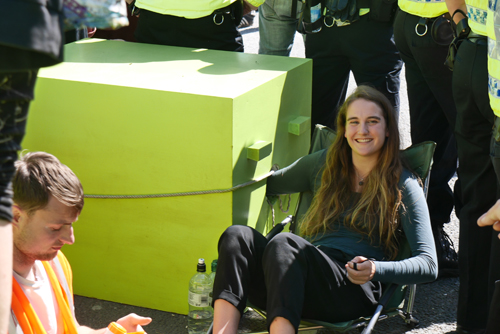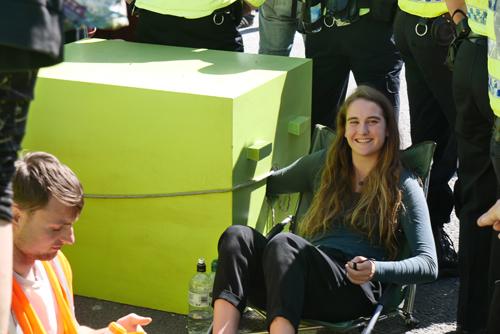 You never actually own a lock-on....
Local families, councillors and anti-nuclear power activists joined the first days of the 'Rolling Resistance' month of anti-fracking action in Lancashire organised by local groups and national climate activist network Reclaim the Power.
As PN went to press, we were half-way through the month of action, which aimed to disrupt work every single day in July at the Preston New Road site near Preston, owned by oil and gas company Cuadrilla.
On 12 July, three generations of one Lancashire family were arrested while blockading the proposed fracking site. Gillian Kelly, mother of Sebastian, and grandmother of Megan, said: 'I've never done anything like this before, but I can't sit idly and watch the place I was born and raised be poisoned and polluted by fracking. This will affect my whole family and their futures; my sons, my grandchildren – and that's why we're taking action together as a family today.'
Extraction without representation
At the beginning of Rolling Resistance, on 3 July, 13 local residents, including three local and county councillors, locked-on at the site at 3am. Lancashire county councillor Gina Dowding of the Greens said: 'It's abundantly clear that when it comes to fracking, local councils have been rendered weak and helpless. I feel I need to be here with the community to say that we won't roll over and accept this.'
Kirkham town councillor, Miranda Cox said: 'When your community and family is threatened, you are often left with little choice but to take direct action. As a councillor and member of this community, I have been left with no more alternatives. I feel our way of life locally is under attack by an industry that, backed by a distant central government, is seeking to turn Fylde and Lancashire into the largest gas field in Europe.'
In March, councillor Cox was forcibly shoved to the ground during police kettling of a group of anti-fracking protesters and taken to hospital with torn ligaments in her knee.
On 4 July, a demonstrator at Preston New Road was put in a headlock and punched by the Cuadrilla site manager, then pinned to the ground by security guards, while other guards carried out violent assaults on other protesters.
The 12 July lock-on reported above took place after 100 women activists, dressed in white, held a silent 'Call for Calm' to try to reduce widespread violence by police and security guards at Preston New Road.
Nuclear risks
On 5 July, six campaigners from the southwest mounted a car blockade at Preston New Road to protest at the fact that the site is just five miles away from a nuclear fuel production plant. Springfields produces the nuclear fuel for Trident submarines and all of the nuclear power stations in the UK.