Issue

June - July 2017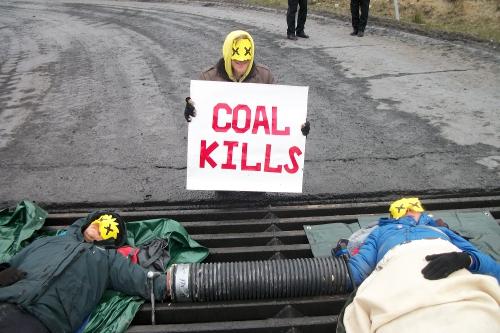 Climate activists block the rail head terminal road at Ffos-y-frân on 21 April. PHOTO: COAL ACTION NETWORK.
On 8 May, five Welsh activists learned the price of nonviolent action they had taken in April to save lives and mitigate environmental harms. Sentencing them to 18 months' conditional discharge, magistrates in Merthyr Tydfil also ordered them to pay compensation of £10,000 to the Miller Argent mining company plus court costs of £525.
On 21 April, environmental activists had 'locked-on' to machinery and stopped the operation of south Wales' notorious Ffos-y-frân opencast coalmine. To highlight that 'there are too many toxic gases entering the atmosphere because of burning coal', activists dressed as dead canaries. Historically, coal miners working underground used canaries to give them an early indication of the presence of poisonous gas.
Following their nonviolent direct action, five of the activists from Reclaim the Power and Earth First! were arrested and charged with aggravated trespass.
Since the mine began operating in 2008, climate activists have joined with local environmental justice groups to oppose Ffos-y-frân by all possible means, from petitions and the courts to nonviolent direct action.
Climate camps in 2009 and 2010 were followed by a third last year. With red-suited protesters following a smoke-breathing dragon into the heart of the mine, that camp staged a spectacular occupation to stop production.
Miller Argent, the consortium mining Ffos-y-frân, are currently appealing against a decision by Caerphilly council not to grant planning permission for an adjacent opencast mine, Nant Llesg. Beggaring belief, Miller Argent pursue their opencast mining agenda in the guise of 'land reclamation'.
To date, Ffos-y-frân has mined 6.5 million tonnes of coal. When burned to produce electricity, this will produce almost 15 million tonnes of the greenhouse gas carbon dioxide. As well as driving climate change, Anne Harris of the Coal Action Network told Peace News: 'Ffos-y-frân is covering local people's homes in dust that residents are breathing in every day. Earlier this year, a United Nations special rapporteur on hazardous substances and wastes called for an independent investigation into the potential health impacts of the mine.
'Ffos-y-Frân's main coal consumer has been Aberthaw power station. Aberthaw is the dirtiest power station in the UK in terms of nitrogen oxides (NOx)produced. In the first half of 2016, the plant emitted 11,003 tonnes of NOx, almost four times the 4,800 tonnes permitted [annually] under European Union Industrial Emissions Directive limits. The UK government has allowed [energy company] RWE npower to breach EU air quality regulations at Aberthaw, and a September 2016 ruling by the European Court of Justice said this was unlawful.'
Unjust penalty
Local resident Chris Austin of the United Valleys Action Group commented on the £10,000 compensation order: 'It was a travesty of justice to say the least. They were hammered in court to send a message to all potential environmental activists that, if they take direct action, they will be crippled financially.
'They wanted to appeal, but magistrates warned that if they came before the court again they'd most probably get a criminal record, a fine, costs, and still be subject to a compensation claim. So, Hobson's choice! Two of the girls were in tears, shocked at the amount of money they had to find, and frustrated that they had to pay compensation to the mining company which is the real criminal.'
"Ffos-y-frân is covering local people's homes in dust that residents are breathing in every day."
One of the activists sentenced, Andrea Brock, 31, said: 'Ffos-y-frân showcases the failures of environmental regulation in the UK and the court's decision favours corporate power over public interests.'
Another activist, Rick Felgate, 24, expressed a collective commitment to fight on: 'The decision shows that Miller Argent and the wider establishment are clearly alarmed by the growing resistance. We cannot be deterred and this only shows the urgency of our movement to escalate.'
Sign of crazed times
Times have changed for environmental and climate justice. As reflected in the attitude of Merthyr Magistrates, at least some societies have taken a homicidal and ultimately suicidal lurch into lunacy.
In 2008, in the so-called 'Kingsnorth Six' judgement, which evidently failed as a landmark ruling, Greenpeace activists successfully used climate change as a legal defence. A jury cleared six people who had scaled a 200-metre chimney at Kingsnorth power station of causing criminal damage to the tune of £30,000.
The election of climate change-denier Donald Trump as US president, the Brexit vote that may in due course nullify EU environmental regulation in the UK, and a Tory government that last year effectively scrapped the department of energy and climate change are wider signs of our demented times.
In the wake of COP15 in Copenhagen in 2009, ethicist Dale Jamieson marked the demise of effective governmental action on global climate change. In his book Reason in Dark Times, Jamieson notes that our maladies significantly predate Trump and Brexit: 'Our failure to prevent or even respond significantly [to climate change] reflects the impoverishment of our systems of practical reason, the paralysis of our politics, and the limits of our cognitive and affective capacities.'
Jamieson concludes that: 'Despite the unprecedented nature of the challenge, human life will have meaning as long as people take up the burden.'
Taking up that burden is precisely what activists were doing at Ffos-y-frân.
Anne Harris sums up the ongoing challenge: 'For the sake of the people living next to Ffos-y-frân and Nant Llesg, coal mining needs to stop. For all of us breathing the toxic fumes from Aberthaw power station. And it must be shut for those living in the Global South, the people most affected by climate change: we must end our addiction to coal now.'