Issue

June - July 2017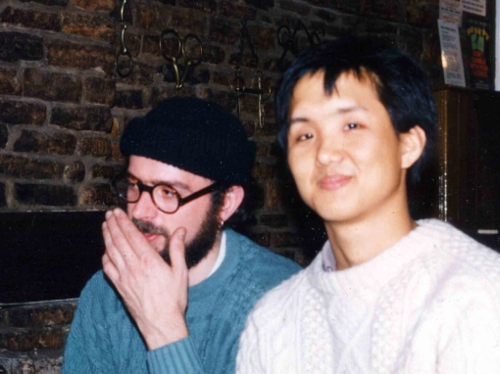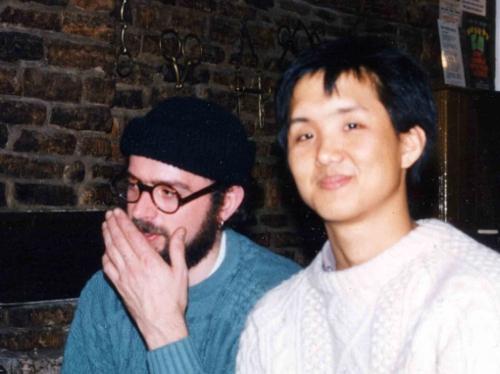 16 March 1991: Undercover police officer Andy Coles (calling himself 'Andy Davey') tries to cover his face as he is photographed next to PN editor Milan Rai in a pub in Fairford, Gloucestershire, after an anti-war protest at a nearby US base. PHOTO: NOOR ADMANI
In 1991, I was living in London and involved in a nonviolent direct action affinity group called ARROW (Active Resistance to the Roots of War). The group had started with direct action against the 1991 Gulf War, and then broadened into actions on other issues, mainly to do with the arms trade to begin with.
That summer we blockaded the Birmingham NEC and Portsmouth arms fairs; targeted British Aerospace's headquarters; set up a weekly picket of the foreign office; marched from RAF strike command, High Wycombe, to USAF Upper Heyford.
The group was quite big, and had open meetings. A man calling himself 'Andy Davey' joined. Andy wore a black beanie hat and drove a white van and he came to actions and meetings.
I remember him as friendly, mild-natured, standing on the sidelines, and a little bit flirtatious.
One evening, Andy drove me home from some event. He told me, to impress me I thought, that he was a press officer for the ALF (Animal Liberation Front).
I remember thinking: 'What kind of a fool do you take me for? Or what kind of a fool are you to tell me that?' The ALF was and still is a very secretive group, carrying out direct action against animal exploitation. Either Andy was not a press officer for the ALF, and he thought that I was the kind of person who would be impressed by that boast, or he was an ALF press officer breaking the secrecy of the group with someone he barely knew.
We hung out, he stayed and stayed at my house until it was very late. I could tell he thought there was copping off in the air.
It was late, I was tired, and I wanted to be in control so, mischievously, I asked if he wanted to stay the night. He was very eager. I told him he could have a mattress and bedding on the floor.
At that point, he left in a rage.
Outing Andy
I used to tell this anecdote as my funny 'I-bet-he-was-an-infiltrator' story, until 12 May when I discovered from a Police Spies Out of Lives press release that 'Andy Davey' was actually Andy Coles, an undercover member of the Metropolitan police special demonstration squad, who infiltrated activist groups for several years in the early 1990s.
Now this is not a funny story that there was a cop grooming me to gain an operating base in the peace movement.
On 12 May 2017, when he was outed, Andy Coles was a deputy police and crime commissioner for Cambridgeshire and Peterborough, and a Tory councillor in Peterborough.
Because of an investigation by the Undercover Research Group, working with the Guardian, and the discovery of a year-long dishonest sexual relationship that 'Andy Davey' (actually 32 and married) had in 1992 with a 19-year-old activist, Andy Coles was forced to resign as a police commissioner on 15 May (he was still a Conservative city councillor at the time of going to press).
Looking through ARROW photographs, I've found him on a demonstration at USAF Fairford in Gloucestershire, on 16 March 1991, a week before ARROW changed its name from 'Gulf War Resisters'. We'd organised the demo when we thought the war would still be continuing – it had ended suddenly on 28 February, but we still held the protest.
'Andy Davey' travelled there on a coach we'd hired, sitting in the seat behind ARROW member (future Ploughshares activist and now PN author) Andrea Needham.
During the march through Fairford he can be seen peeking over long-time activist Ernest Rodker's shoulder, chatting away to the youngest member of ARROW, 16-year-old Pippa Gibbins, tying messages to the fence of the B-52 bomber base with uniformed police on either side, and sitting in the pub afterwards with ARROW member (and now PN editor) Milan Rai.
I have trawled the minutes of our meetings. Spies now come to mind in this bewildered note on a social we had in September 1991: 'Report on Epping Forest outing... it was a good day and a chance to meet and talk to people, as there isn't always time after meetings. But who were all those people?'
According to the ARROW address list for November 1991, 'Andy Davey' was 'living' at 70 Montpelier Road, London SE15. He had a pager rather than a phone.