Issue

June - July 2017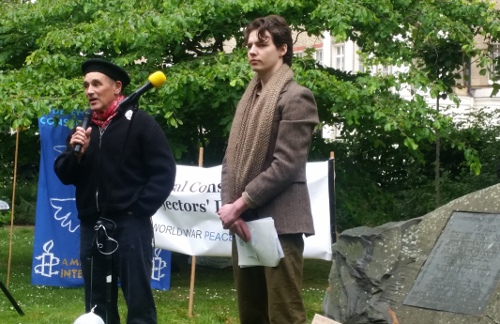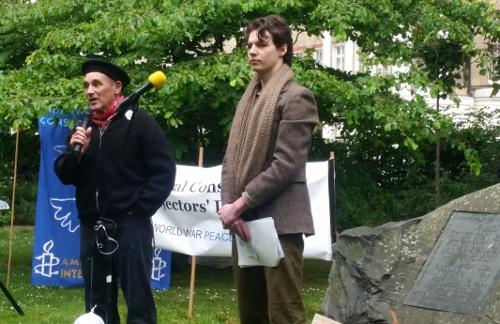 Mark Rylance (left) and Patrick
An impressive number of people braved a forecast downpour on 15 May to commemorate Conscientious Objectors (CO) Day in Tavistock Square in central London.
The rain downgraded to a steady drizzle but maybe the news that Mark Rylance (sir Mark? We don't do titles do we?) was going to be one of the speakers motivated people.
Mark is best known for portraying Thomas Cromwell in the BBC TV series Wolf Hall; younger readers may know him as the BFG.
Mark has gone on record as a supporter of the right not to contribute to military taxes on grounds of conscience. He brought with him a friend and actor, Patrick Walsh MacBride, and together they performed a short piece from the play Not about Heroes, by Juliet Rose, which features the First World War experience of anti-war poet Siegfried Sassoon.
The other guest speaker was Nick Jeffrey, a Vietnam War draft resister. Nick recounted his experiences escaping the draft and how he ended up in the UK.
The names of conscientious objectors representing all countries and all times in history were read out, and flowers were laid at the CO memorial in the square. Sue Gilmurray led the music with Raised Voices choir.
Maximilianus
One of the CO names was 'Maximilianus', a Berber who was beheaded in 295 CE after refusing, as a Christian, to swear allegiance to the Roman emperor.
Maximilianus is noted as the earliest recorded conscientious objector, although it is believed that other Christians at the time also refused military service. More recent COs are from Algeria, Angola and Israel.
Every year since 1982, 15 May has been marked as International Conscientious Objectors' Day to commemorate those who have resisted and those who continue to resist war, especially by refusing military service.
The national commemoration in London is organised by the First World War Peace Forum – a coalition of 12 national peace organisations.
There were also CO Day events in Helsinki, Finland; Mannheim, Germany; Seoul, South Korea (a bike ride); Istanbul, Turkey; and in Berkeley and Iowa City, USA.
In the UK, there were commemorations in Cambridge, Cardiff, Edinburgh, Leicester, Liverpool, Norwich, Portsmouth and Sheffield, as well as in London.