Issue

October 2015 - November 2015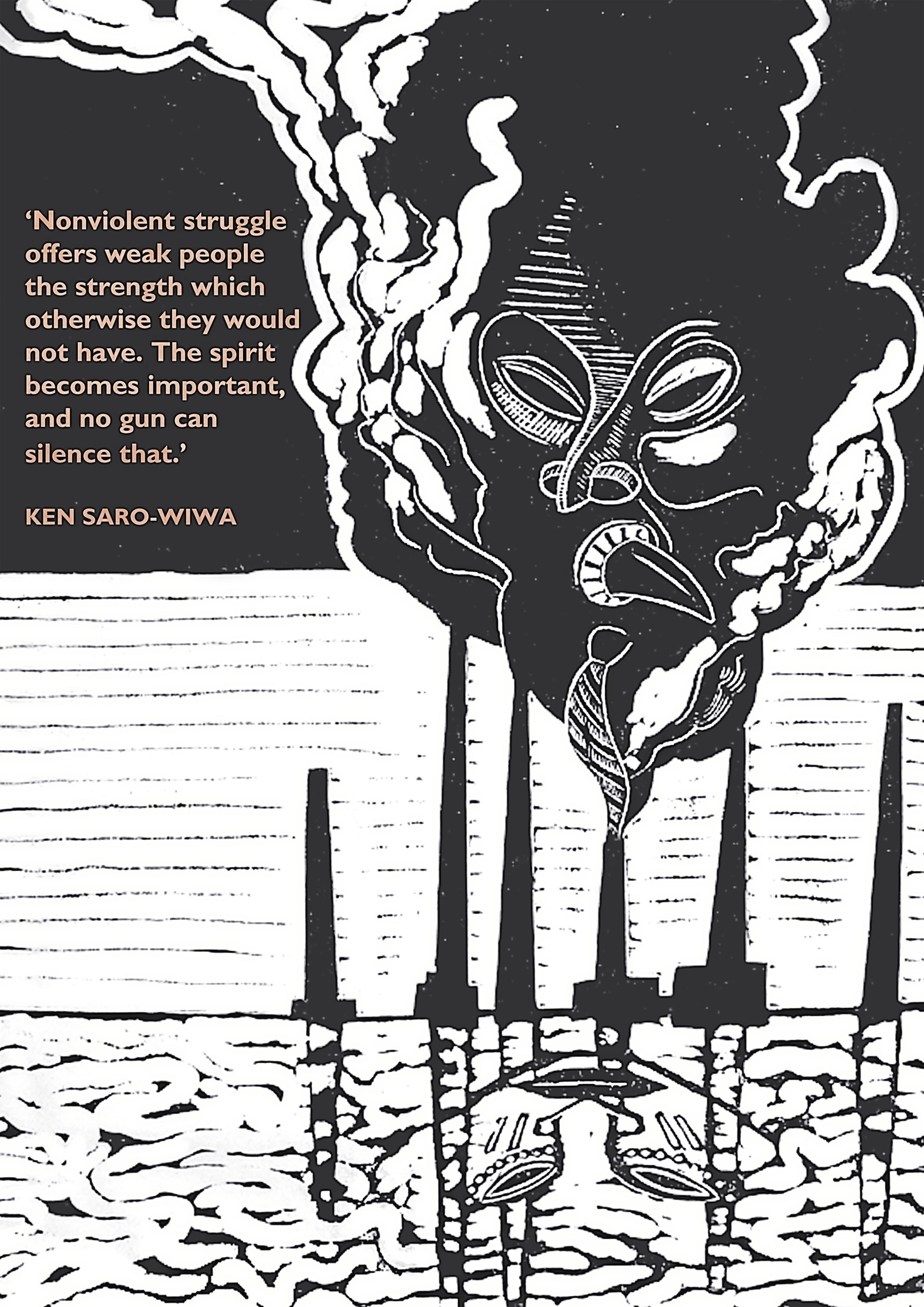 Graphic: Emily Johns
On 10 November 2015, it will be 20 years since the Nigerian writer and activist Ken Saro-Wiwa and eight Ogoni colleagues were hanged by the military government for campaigning nonviolently against the oil company Shell.
It will be nearly 60 years since Shell started drilling in the Niger Delta. Home to 20 million people and 40 different ethnic groups, the Niger Delta is the largest wetland in Africa, and the recipient of frequent oil spills. Guardian journalist John Vidal wrote in 2010: 'more oil is spilled from the delta's network of terminals, pipes, pumping stations and oil platforms every year than has been lost in the Gulf of Mexico' due to the Deepwater Horizon disaster.
Nigeria is also infamous for oil companies' practice of 'flaring' most of the gas released during oil extraction – equivalent to 40 percent of Africa's annual gas consumption. Gas flares, often close to villages, release poisonous chemicals such as nitrogen dioxide, benzene, toluene, xylene and dioxins.
In response to Shell's callous and oppressive behaviour, Ken Saro-Wiwa led the Ogoni people in Rivers State in a mass nonviolent campaign for back-royalties and compensation. This culminated in the 4 January 1993 peaceful uprising of 300,000 Ogoni in the biggest-ever demonstration against an oil company.
As a result of that nonviolent rebellion, Shell was expelled from Ogoniland and has not been able to return. Ken Saro-Wiwa and eight other Ogoni activists were arrested in January 1995, tortured and finally executed (after a show trial) for the deaths of four conservative Ogoni chiefs. The two chief prosecution witnesses later confirmed that they had been bribed by Shell.
There will be a series of events this November to mark the 20th anniversary of the murder of Ken Saro-Wiwa and his colleagues, to force Shell to clean up, and to obtain environmental justice for the Ogoni.