Issue

October 2015 - November 2015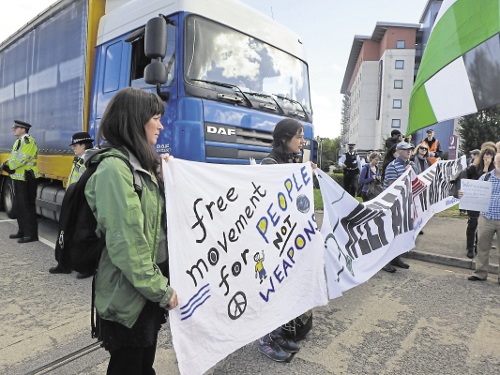 Activists stop deliveries to the DSEI arms fair on 12 September. PHOTO: DAN VIESNIK
There were huge tailbacks during day-long blockades of both entrances to the ExCeL exhibition centre in East London on 12 September, as a day of mass action capped a week of creative disruption in the run-up to the huge biannual DSEI arms fair.
On Monday 7 September, the week of action was launched with a blockade in solidarity with Palestine. Activists stopped a military vehicle from entering ExCeL, and held the road for hours with 'Stop Arming Israel' banners and chants.
At one point, over 50 people took part in a Dabkeh folk dance as part of the blockade. There was a 'Pavilion of Shame' spoofing the Israeli pavilion which was due to be showing at DSEI.
Alongside was a Pavilion of Remembrance which celebrated Palestinian culture and which was decorated with a quilt remembering the victims of drone attacks.
Groups participating included: Boycott Israel Network, Campaign Against Arms Trade, London Palestine Action, Palestine Solidarity Campaign and War on Want.
Blood on your hands
The next day, 'No Faith in War' blocked both entrances to ExCeL for four hours. After a 'Litany of Resistance', a group of people took the road, stopping equipment due to be installed at DSEI. A group of Quakers then held a meeting for worship in the road, continuing the blockade.
Later, the London Catholic Workers held a funeral service in memory of the the victims of conflict and the arms trade, and fake blood was poured on the road.
Among the faith groups taking part were: London Catholic Workers, Pax Christi, Put Down the Sword, the Quakers and the Student Christian Movement.
On Wednesday, Fuel Poverty Action, Global Justice Now and the Woodcraft Folk were there for 'Wind not Weapons'. Protests highlighted the link between military spending and climate change: the UK government spends 25 times more on researching weaponry than it does on researching renewable energy.
Deliveries to the DSEI exhibition were stopped by a line of (cardboard) wind turbines. A small group managed to enter ExCeL and hold a 'Stop the Arms Fair' banner in front of a howitzer that has been used in Mali, Lebanon and Afghanistan.
On 10 September, there was a 'Conference at the gates' of DSEI organised by Academics Against the Arms Trade, as part of a 'Welfare not Warfare' day. Presentations on militarism continued while the road was blockaded just feet away.
Refugees yes, arms dealers no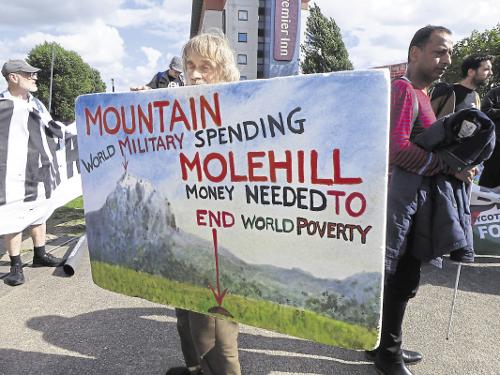 Day 5 was about 'Freedom of movement for people NOT weapons'. At the start of the day, campaigners handed in 10,000-strong petition to 10 Downing Street with the message 'Welcome refugees, not arms dealers'.
At the ExCeL centre, talks linked arms exports, institutional racism and migration. Speakers included migrant groups in Calais (via a live phone call), the All African Women's Group, Black Dissidents and Green Party leader Natalie Bennet.
As part of the day, an Alternative Border Force patrolled the road with alternative border policies: 'Refugees welcome, merchants of death need not apply'; 'No guns, no bombs, no tanks, no drones, no missiles, no wars'.
Finally, on 12 September, there was a packed day of workshops, speeches, performance, and action. The day began at the eastern roundabout with reflections from folk who'd camped outside ExCeL all week in the Occupy camp. Then there were talks from other groups, describing the actions that had taken place on the previous days.
Over 100 activists then took the road chanting: 'Repression starts here, let's stop it here!'.
The western entrance was then blockaded – partly by an anti-arms trade bicycling Critical Mass.
The DSEI site was completely shut down for five hours, with Belgian activists' lock-ons being particularly difficult for the police to remove.