Issue

October 2015 - November 2015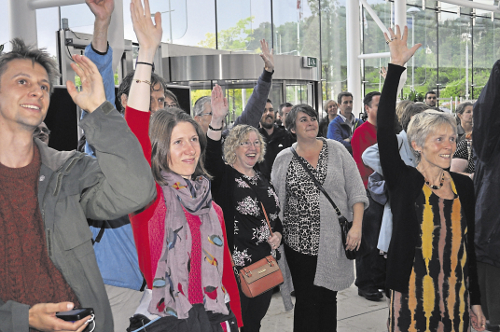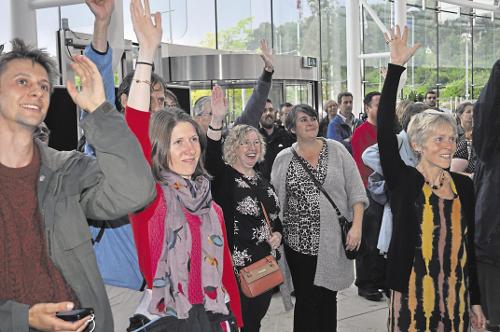 Activists celebrate the Caerphilly council's vote against Nant Llesg open cast mine. Photo: LOTTE REIMER
Back in October 2007, George Monbiot published The New Coal Age. Expressing his absolute incomprehension and dismay, Monbiot wrote: 'If this is allowed to happen, we might as well give up now.' He was, of course, talking about Ffos y Fran opencast coalmine.
Well, our authorities in Wales, from the Labour-controlled government to Merthyr Tydfil council, did allow Ffos y Fran to happen – more than 'allow', they actively facilitated it.
The other strand of Monbiot's pessimism was wrong, however: we haven't given up. And, developers, local and national government take note, we won't. We can't, there's too much at stake.
Monbiot's calculations of the coal and carbon emissions from Ffos Y Fran remain mind-boggling today: 10.8 million tonnes of coal producing almost 30 million tonnes of carbon dioxide, equivalent to the annual sustainable emissions of 25 million people. Shocking. And, recall, 2007 was an optimistic time, before the shattering disappointment of COP15 in Copenhagen.
The New Coal Age catalysed the mobilisation of climate change activists, first in west Wales, then across Wales and beyond, to come to Merthyr to take action with the local group, Residents Against Ffos y Fran.
In the process, these climate activists, concerned for the planet, learned what an opencast coalmine means for people locally: the dust, the noise and, perhaps worst of all, the callous disregard by corporations, local and central government – the calculating manipulation of democracy: What delayed legislation for a 500-metre buffer zone? And 'land reclamation scheme'? My arse!
Together we had marches and rallies and took direct action, sometimes closing Ffos Y Fran. As a vicar for the day, I officiated at a wedding between Merthyr Council and the mining company Miller-Argent, parodying the inappropriately intimate relationship between the two.
In 2009, we staged Climate Camp Cymru, which brought the travesty of Ffos y Fran to the attention of many more people. And in 2010, we tried again. That same year, some of us also cycled from 'Merthyr to Mayo' to forge solidarity with those struggling against Shell's Corrib gas pipeline. Over the years, all these actions have been reported in Peace News.
Back in the Welsh valleys, people continued the daily struggle against Ffos y Fran, and more recently the proposed Nant Llesg mine, on many fronts. It has been extraordinarily hard work, exhausting and stressful, and with scant resources. Their efforts should be widely applauded.
Throughout, Friends of the Earth supported Residents Against Ffos y Fran and continue to support the United Valleys Action Group, exhibiting the long-term commitment that struggles against corporations and complicit government demand. Most of the time, for everyone involved, it's not glamorous nor in the media spotlight, it's arduous and unheralded.
On 5 August, Caerphilly councillors showed the foresight and backbone that Merthyr lacked in 2007. They rejected the advice of their out-of-touch and professionally-culpable planning officers, and refused Miller Argent's application to mine Nant Llesg. They accepted the responsibility that a deliberately negligent central government foisted upon them, acting in the best interests of both local people and the planet.
Nant Llesg would decimate a developing local economy based on clean air and water, breath-taking scenery, and a green environment; it would blight the daily lives of people living near to and down-wind from the site. And, on a conservative estimate, it would produce at least six million tonnes of coal and so be responsible for around 13.60 million tonnes of carbon dioxide emissions. How many deaths is that? How inconceivable does it seem, at this moment in history, to be even considering investing in fossil fuels?
The valleys of Wales fuelled the industrial revolution with coal. In 2015, Caerphilly councillors kindled the spark of a Green revolution, a spark that has been so steadfastly tended and presented to them by committed, knowledgeable and caring local people.
The council's decision signals the imperative to remake Wales as a proud place to live in the 21st century, a land where the people control the resources and enjoy a healthy environment, connected to the world. It's time to draw a line under the ill-conceived lunacy of a short but far from sweet new coal age.