Issue

October 2015 - November 2015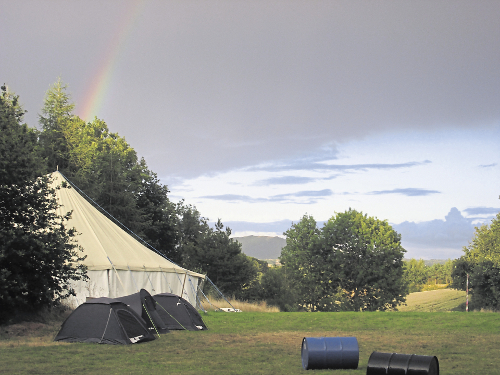 The entertainment at this year's Peace News Summer Camp was just brilliant. Poet of the people John Hegley had the audience both in the palm of his hand and on the ground with laughter. With him was bookseller Celia Mitchell, reading poems by her husband, Adrian Mitchell. And the Saturday evening finished with a storming set by Robb Johnson, back for the second year by public demand.

The previous evening, we had had Pilar Lopez's moving survey of the Spanish Revolution/Civil War through photographs and song. On Sunday night, we had a volcano of energy in the camp Talent Show.

In an email a week later, John Hegley wrote to us: 'What a champ camp!'

John also did an impromptu daytime workshop for children and the young at heart, and he said it was the best workshop he could remember doing, because of the warmth and friendliness in the tent.

'Friendly' was the most common adjective in the 'Whole Camp Evaluation' forms people filled in at the end of camp. This was the most highly-rated camp ever, scoring higher in all categories than the last camp at Crabapple in 2012 (except on workshops, where the scores were equal).

It was clear that the 110 people who came to Crabapple Community in Shropshire had had a very good time. Crabapple was lovely, as usual. Great food from Veggies Catering Campaign was very much appreciated. We had the best washing facilities ever, courtesy of Pete; and the best Teen Space, and the best step-free compost toilet ever, both courtesy of Crabapple.

We also had the most straw bales ever for sitting on (or playing in) courtesy of the Radical Herbalism gathering, who were at Crabapple two weeks earlier, and who we shared the cost with.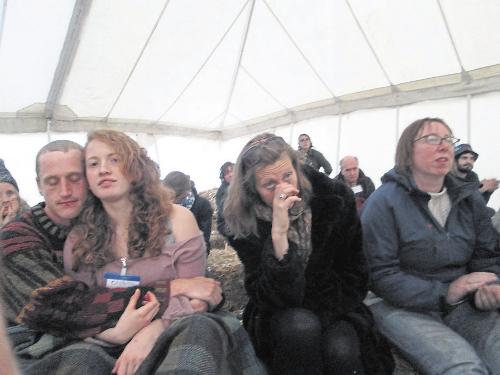 Workshops


Among the workshops were
Radical Creativity – Creative practitioners for social change
Singing Our Hearts Out l Children in Charge – libertarian education today
Grounds for Dissent – Faslane Peace Camp
Climate not Trident – Strategies for the Radical Climate and the Radical Peace Movements (whole day workshop)
Stop the Arms Fair
Accountancy for Anarchists (whole-day workshop)
Dealing with Everyday Militarism
Chomsky and Revolution
Make Cake, Not War (a practical workshop by Veggies)
Advanced Facilitation
Introduction to Trident
How Can Peace News Help You Change the World?
Money, Money, Money – How to apply for grants and other fundraising tips
The World is My Country – the Peace News First World War poster project
Rebel Clowning Taster
--------------------------------------------------------------
What campers said


What I liked about Peace News Summer Camp:

'Workshops, welcoming, safe, enjoyable, relaxing yet taxing?!'

'The inclusion, friendliness, openness, feeling safe to say things. Analysis and discussion'

'All the usual things, lovely relaxed atmosphere, thought-provoking discussions, really important to have this space to connect with others working on same issue, networking, learning'

'Brilliant time - Great kids space. Relaxed + loads of fun.'

What could be improved:

'Think the whole-camp discussion would've been better spread across the whole three days, rather than 1 entire day. If people had only come for 1 day, there wasn't any choice for them. Plus quite intense, hard work to focus on 1 thing for all day.'

'Solar showers. Something for teens other than a place to sit.'

'More activities for teens. Teens are mostly too old for Kids Space but still a bit young for adult workshops.'

'Would love some hot water for washing if not a shower (solar shower?)!'

Did the Camp succeed in helping movements to find common ground?

'Not sure there was enough representatives of both movements to have done so, but the topic was important, and good to spend time on it anyway'

'Yes but more for newbies please.'

Other comments

'I will subscribe to Peace News.'