Issue

February 2015 - March 2015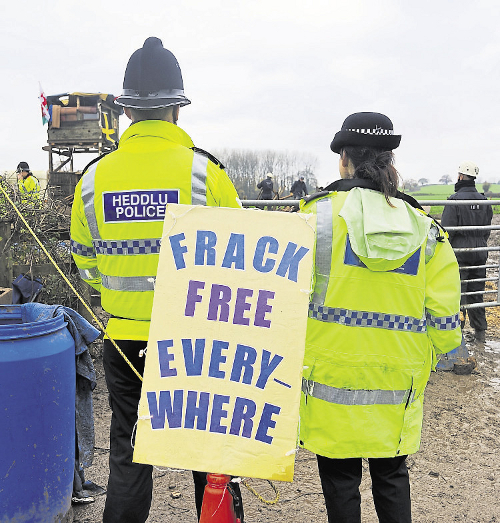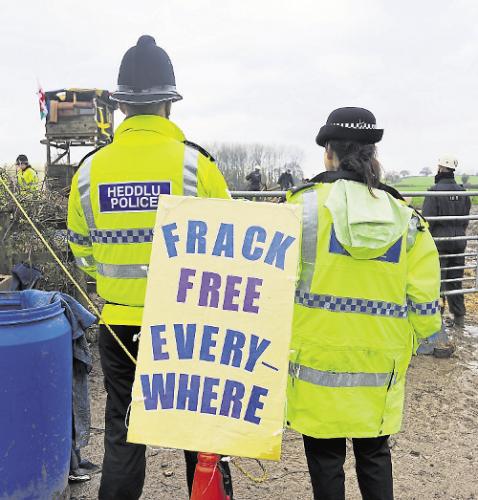 Eviction of Borras and Holt Community Protection Camp. Photo: Dave Ellison
In January 2014, Westminster prime minister David Cameron announced that his government was 'going all out for fracking'. (Fracking is the high-pressure hydraulic fracturing of shale rock deep underground to extract natural gas or other fossil fuels.) As an inducement to local authorities, councils were allowed to keep 100% of business rates from shale gas sites.
Defying public opinion, the government also intends to change trespass laws, permitting fracking companies to drill under land and homes. Fracking perpetuates reliance on fossil fuels and makes meeting commitments to reduce carbon emissions to mitigate global climate change impossible. The government's embrace of shale gas goes hand-in-hand with a withdrawal of support for renewable energy, particularly on-shore wind.
More than 60% of the area of the UK can be licensed for fracking. The British Geological Survey reports 'abundant shale at depth, though the distribution is not well known'. How much gas it would be technically viable to extract is also unknown. Moreover, the financial viability of extraction varies with fluctuations in global fuel prices. So, the likely impact of shale gas on the UK's energy security and economy is contested.
Apart from the impact of shale gas on climate, the environmental safety of fracking technology is also suspect. Despite possessing the greatest reserves of shale gas in Europe, for instance, France has banned fracking due to fears of groundwater contamination. In the UK, the Extreme Energy Action Network (Frack Off) lists other concerns, including methane leakage, earthquakes and industrialisation of landscape.
Welsh lambs to the slaughter?
Throughout 2014, the Frack Free Wales coalition prepared to resist the advent of extreme energy exploitation.
More than a million people in Wales live in areas that could be at risk. Areas targeted include Swansea (underground coal gasification), the Vale of Glamorgan (coal-bed methane), and sites in South and North Wales where shale gas fracking may be possible.
Friends of the Earth Cymru, a member of Frack Free Wales, ran training courses in Carmarthen, Newport Gwent and Haywarden in the lead up to a Wales-wide day of action on 5 July (see PN 2572–2573).
On 11 October, Global Frackdown Day, following a demonstration in Cardiff, FoE Cymru presented the Welsh government with a petition for a moratorium on 'extreme energy'.
Rejecting the petition out of hand, the Welsh government declared itself happy with the regulation of fracking, stating that the 'approach advocated in national planning policy is sufficiently robust' to protect the environment.
Obliviously following Westminster's lead, the Welsh government considers gas a constituent of its energy policy, denying it has the devolved powers to declare a moratorium on fracking.
In late October 2014, the first anti-fracking camp in Wales was set up at Commonwood Farm, Borras near Wrexham. Initially, Wrexham council rejected an application for test drilling, citing environmental concerns alongside the risk of desecrating the de facto graves of 255 miners killed in the 1934 Gresford Colliery disaster.
The Welsh government overturned this decision. So, on 27 November, 'Borras and Holt Community Protection Camp' was demolished by bailiffs and the protesters evicted, though they immediately set up camp on an adjacent site. That camp continues to garner widespread moral and practical support from the local community as well as from across Wales.
New year
2015 could be a year of fracking dangerously for Wales.
Although the recent slump in the price of oil may make exploiting extreme energy less financially attractive for voracious corporations, Frack Free Wales is not relaxing its vigilance.
The network has a multi-stranded strategy in place. It continues a programme of training on a range of activist skills for at-risk communities. Many local authorities are being petitioned to declare themselves 'frack-free'. A legal opinion on the power of the Welsh government to declare a moratorium will be sought.
In addition, opening up a 'cultural front', the network is also backing a one-day conference and exhibition in Aberystwyth. Fracking could shape the physical, human and environmental geography of the future, and this conference will bring together scientists, activists and artists to produce a public depiction.
Fracking companies be warned: Wales is ready for you; exploiting extreme energy will be widely unpopular, strongly contested and very costly; in short, not worth your while.
So, Frack Off!