Issue

February 2015 - March 2015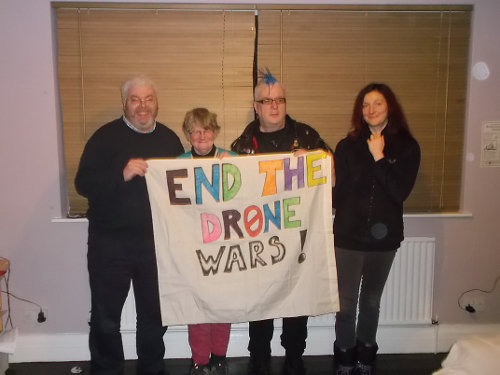 Four peace activists, Chris Cole, Penny Walker, Gary Eagling and Katharina Karcher, were arrested inside RAF Waddington, in Lincolnshire, on 5 January, while protesting against the use of armed drones.
The four cut a 'New Year Gateway for Peace' into the base and walked towards the Reaper ground control station from which RAF 'pilots' operate armed drones. The activists carried banners and reports of civilian casualties from recent UK, NATO and coalition airstrikes in Afghanistan and Iraq. After the arrests, police removed documents and other items from the campaigners' homes.
The four were charged with criminal damage and aggravated trespass, and given bail on condition that they do not re-enter Lincolnshire, or go within 500m of any UK military base.