Issue

February 2015 - March 2015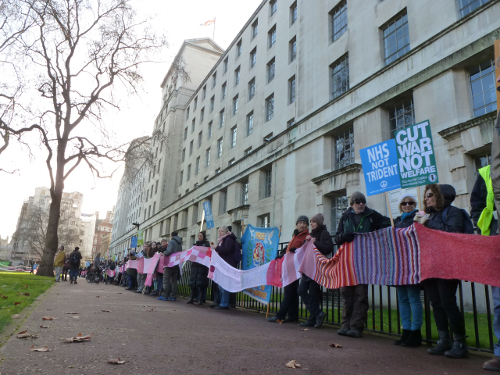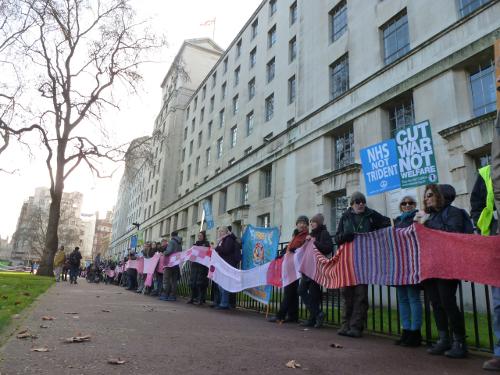 3,000 peace activists hold a giant 'peace scarf' in Whitehall.
Photo: Dan Viesnik
On 24 January, activists from across the UK gathered in London to protest against the renewal of Britain's nuclear weapons system. Protesters encircled the ministry of defence and other government buildings with a colourful 'peace scarf', knitted in 2014 by thousands of activists from across the globe for the 'Wool Against Weapons' campaign. The scarf will now be turned into blankets and sent to areas of humanitarian need.
Campaigners then marched from Whitehall to parliament, where speakers including Jeremy Corbyn MP and Kate Hudson, general secretary of the Campaign for Nuclear Disarmament (CND), addressed the crowds. Spoken word artist Potent Whisper also performed.
Marchers carried banners with the slogans 'NHS not Trident', 'Climate not Trident', 'Homes not Trident' and 'Jobs not Trident', referring to the £100 billion cost of Trident replacement which could otherwise be invested in public services and infrastructure.
The cost of maintaining Britain's nuclear weapons system was recently put in the spotlight as it was revealed that £261 million of funding has been 'reprofiled' for immediate use in the assessment phase of Trident replacement.
'Wrap Up Trident' marked the beginning of CND's general election campaign, which over the next few months aims to raise the profile of the nuclear issue with politicians and the public. The upcoming election will be particularly significant in the campaign against nuclear weapons, as MPs elected in May will in 2016 vote on whether or not to replace Trident.
By encouraging the public to lobby their local candidates over the issue of nuclear weapons, CND hope to make Trident a key election issue.
The question of nuclear weapons has already been placed high on the general election agenda by a joint statement by the Scottish National Party, Plaid Cymru – the Party of Wales, and the Green Party (see p6).
Around 3,000 people attended the demonstration, and all took part in wrapping the peace scarf around parliament.
Representatives from CND groups all over the country travelled to London for the event, and Christian CND held a pre-demonstration prayer and protest event.