Issue

December 2022 - January 2023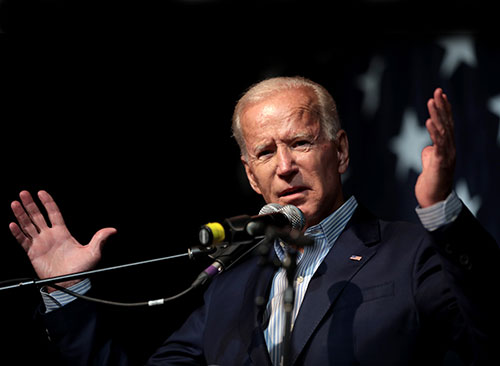 The United States could make a huge contribution to the safety and wellbeing of the Ukrainian people – and to global security – by giving its full support to a peace process between Ukraine and Russia, and by promising that all US sanctions on Russia will be lifted once a peace treaty is signed and Russian forces are withdrawn.
Instead, US president Joe Biden is playing a cynical game by trying to appear as though he is in favour of peace talks, while actually having no interest in negotiations.
On 1 December, Biden seemed to hold out an olive branch to Russian president Vladimir Putin, when he said: 'I'm prepared to speak with Mr Putin, if in fact there is an interest in him deciding he's looking for a way to end the war.... I'll be happy to sit down with Putin and see what he has in mind.'
However, Biden also said: 'There's one way for this war to end – the rational way. Putin to pull out of Ukraine, number one.... The fact of the matter is I have no immediate plans to contact Mr Putin.'
The New York Times reported a day later: 'Although Mr. Biden's remark was taken by some as a new emphasis on moving toward peace talks with Russia, John F. Kirby, a spokesman for the National Security Council, told reporters that Mr. Biden's position had not changed. "The president has been very consistent about that," Mr. Kirby said. "He's got no intentions to talk to Mr. Putin right now."'
Bluntly: 'Mr. Biden's remark about speaking to Mr. Putin was not intended, the officials said, to signal a shift in policy.'
Zelenskyy's veto
Biden made his phony olive branch offer while speaking alongside French president Emmanuel Macron, who h.
Macron had just urged allies to stop insisting that Putin step down before peace talks could happen.
The Ukrainian government has been making that demand for several months. On 30 September, Ukraine passed a law forbidding peace negotiations with Russia until Putin has been replaced as the leader of the country: Ukrainian president Volodymyr Zelenskyy issued a decree stating 'the impossibility of conducting negotiations with the President of the Russian Federation V. Putin.'
Zelenskyy said publicly that Ukraine was open to co-existence with Russia 'on equal, honest, dignified and fair conditions', but: 'Clearly, with this Russian president it is impossible. He does not know what dignity and honesty are. Therefore, we are ready for a dialogue with Russia, but with another president of Russia.'
This regime change position has led to public relations problems, which US propaganda has been trying to solve (see p3).