Issue

December 2022 - January 2023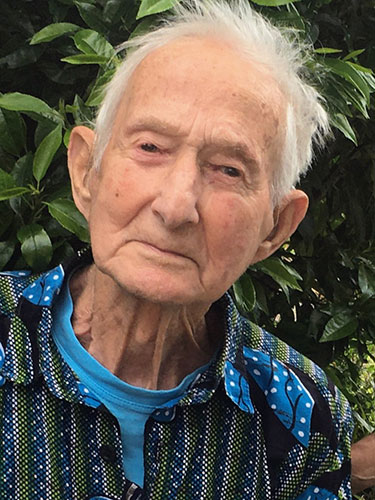 Don Sutherland, Quaker, pacifist, conscientious objector from 1939 and a campaigner on human rights issues, died peacefully at his home in Lincoln aged 103.
Born in Coventry, Don was a member, along with Roy Broadbent (father of the actor Jim Broadbent), of the farming community at Holton-cum-Bickering and later at Bleasby, in Lincolnshire, during the Second World War.
When Ian Sharp's play Conchies, about these pacifist communities, opened in 2017 at the Broadbent Theatre, in nearby Wickenby, Don, aged 99, made a cameo appearance and took part on tour, including at the Edinburgh Festival in 2018. He is the last to die of the Conchies generation.
Don completed his studies for the Chartered Insurance Institute in 1939 and in the same year he witnessed an event that was to change the course of his life.
In a local park, young men, training for the army, were encouraged by the sergeant to bayonet human effigies in the face and stomach.
The brutality horrified Don and soon afterwards he registered as a conscientious objector, being exempted from war service on religious grounds.
In 1941, Don was sentenced to a fine of £10 or imprisonment for refusing to register for fire watching. His parents paid the fine without consulting him but Don always considered this 'the easy way out', preferring to have joined his fellow objectors doing hard labour in Durham prison.
Don sold Peace News in Newcastle in the early 1940s and was later an active member of CND. After meeting US pacifist Bob Luitweiler, Don became a keen member of Servas (Esperanto word meaning 'we serve'), hosting many peace movement families from around the world. In turn, Don travelled to Germany where he stayed with Servas families.
Don started making origami peace cranes following a visit by a Japanese man – and taught others to do so. At gatherings he would sit folding cranes and many would gather to watch or learn the technique.
Don also campaigned for Amnesty International, against the deployment of nuclear missiles at RAF Molesworth, Cambridgeshire, and for 'Fly Kites Not Drones'.
Don was a veteran sportsman, taking up diving in his seventies, then winning several gold medals in national competitions. He continued to dive, swim, cycle, garden and entertain into his late 90s and enjoy dancing, music, theatre and poetry way past his 100th birthday.