Issue

December 2022 - January 2023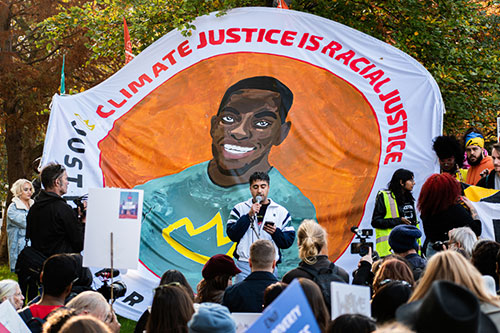 12 November was a Global Day of Action called by Egyptian climate justice groups to mark the COP27 negotiations. There were dozens of demonstrations in Wales, Scotland and England.
In London, the Climate Justice Coalition (CJC) had the bright idea of organising the mass painting (in Embankment Gardens) of large colourful banners to be carried on the local march.
On 12 November, the London march set off from behind the Shell building on the South Bank, Shell and other oil companies' products being major contributors to global heating.
The march was not enormous – thousands rather than tens of thousands strong – but it was very colourful, with plenty of bright banners and placards carrying inventive and humorous slogans and there were a large number of enthusiastic young people taking part.
Before we set off, some marchers held a vigil for Chris Kaba – an unarmed black rapper who was shot dead by police on 5 September.