Issue

December 2022 - January 2023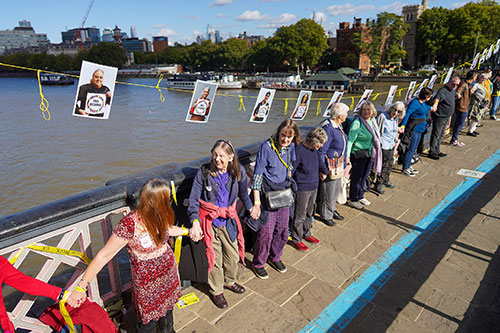 Thousands of people came to London from across the UK and around the world on 8 October to create a human chain around the Houses of Parliament, calling for WikiLeaks founder Julian Assange to be freed.
The demonstration was called by Don't Extradite Assange (DEA), which campaigns for freedom for Julian Assange, currently in Belmarsh Prison awaiting extradition to the US to face conspiracy charges for publishing secret documents revealing US war crimes in Afganistan and Iraq.
From parliament, the human chain ran across Lambeth Bridge, along the opposite side of the Thames, and back over Westminster Bridge.
People passing round the outside of the chain included Assange's wife Stella Moris, and a German man, Kolja, who had walked all the way from Hamburg, Germany (starting on 2 July), carrying a supportive placard.
We were supposed to hear a blast to tell us when to start holding hands and when to stop but, where I was standing, no such sounds could be heard. Some people started to join hands at one point, but many people seemed too embarrassed to complete the chain.