Issue

December 2022 - January 2023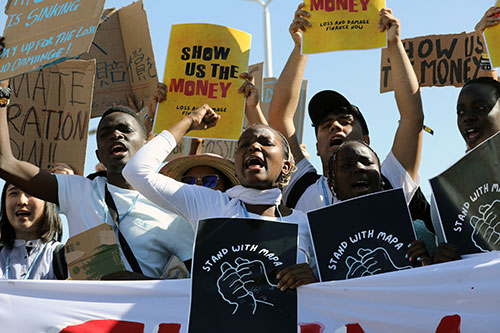 'The ultimate test of this COP is that it has responded to the voices of the climate vulnerable by establishing a fund for loss and damage.' That was Sherry Rehman, Pakistan's minister for climate change, speaking at the closing session of COP27 in Sharm el-Sheikh, Egypt, on 20 November, on behalf of most of the Global South – she was representing the G77/China* group.
Here in the UK, Friends of the Earth welcomed the fund as 'a first step towards wealthy nations providing loss and damage funding for vulnerable countries to help them deal with the impacts of climate change.'
The countries suffering the most from global heating are the ones who've generated the least carbon emissions (per head of population) to create the problem. 'Loss and damage' means the countries that have benefited the most from burning fossil fuels financially supporting those who they have damaged.
So, there is now an official UN loss and damage fund – but it doesn't have any money in it.
Global Justice Now said: 'The most pressing issue for us... is building public support for the UK to make a commitment of new and additional finance (not aid money) to the fund, in proportion with our historic carbon emissions, and to tax big polluters like BP and Shell to pay for it.'
Yeb Saño, executive director of Greenpeace Southeast Asia and head of the Greenpeace delegation at COP27, pointed out that this new and additional financing needs to come on top of the money that rich countries have already promised for 'adaptation and mitigation' in the Global South. (That's to help them adapt to the conditions created by global heating, and to mitigate climate change by reducing emissions or drawing carbon out of the atmosphere.)
Saño said: 'Developed countries must make good on the existing US $100bn per year pledge to support low-income countries to deliver carbon-cutting policies and increase resilience to climate impacts. They must also implement their commitment to at least double funding for adaptation.'