Issue

December 2022 - January 2023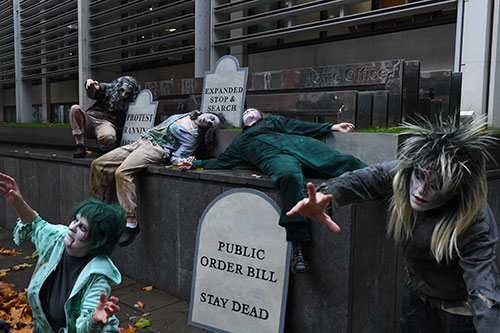 Zombies visited the Home Office on 29 November with a gravestone saying: 'Public Order Bill – Stay Dead'. They were there to hand in a petition (organised by Greenpeace and Liberty) signed by over 300,000 people, calling on the home secretary to stop attacking the basic human right to peaceful protest.
That day, the Public Order bill was having its second reading in the House of Lords. It contains restrictions on protest that had been removed from the Police, Crime, Sentencing and Courts (PCSC) bill because they were voted down, twice, by the House of Lords.
After the slimmed-down, but still very harsh PCSC Act came into effect on 28 April, the government put forward the new Public Order Bill, which not only included measures from the PCSC bill which had been rejected in the Lords, but also added new offences and powers aimed at the sort of demonstrations carried out recently by climate activists.
Proposed measures which had been removed and are now being restored include the police being able to make orders to ban named individuals from joining protests, and an expansion of stop-and-search powers, so that police can stop and search people on the grounds that they might commit a protest-related offence.
Some protest-related offences include: people locking-on by attaching themselves to immovable objects or to each other by chains or glue; going equipped to lock-on (maybe by carrying superglue or duct tape); obstructing major transport work; interfering with key national infrastructure and tunnelling.
Locking-on could result in a maximum punishment of 51 weeks in prison. Going equipped to lock-on could result in a fine – an 'unlimited' fine.
Also, under the bill, if you attend – or support – a demonstration that causes 'serious disruption' – including through noise – to two or more individuals or an organisation, you could be forced to wear an electronic tag to monitor your movements.