Issue

December 2022 - January 2023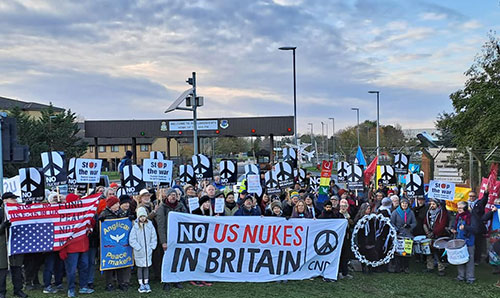 Hundreds of people gathered outside Lakenheath, the US air force (USAF) base in Suffolk, at a Campaign for Nuclear Disarmament (CND) demonstration on 19 November.
They were protesting against the return of US nuclear weapons to the UK.
Originally scheduled for spring 2023, the arrival of the new B61-12 free-fall/glide nuclear bomb at USAF Lakenheath seems to have been brought forward to December.
Speakers at the demo included CND chair Tom Unterrainer, Trident Ploughshares activist Angie Zelter, and Grace Cowan from Stop the War.
CND general secretary Kate Hudson, who also spoke, said: 'The return of US nuclear bombs to Britain and the spending of millions of dollars on upgrading NATO bases across Europe only undermines further the possibility of lasting global peace and security.'
The explosive power of the B61-12 can be set to one of four different levels: 0.3kt, 1.5kt, 10kt, and 50kt.
The bomb that destroyed Hiroshima had a 'yield' of 15 kilotons.
USAF Lakenheath hosted US nuclear weapons from 1954 to 2008 – ending with 110 B61 bombs (an earlier version).
David Polden adds: Three days after joining the Lakenheath demo, the Mad Hatters affinity group brought its message to two London universities, distributing CND leaflets about the Lakenheath deployment to students at SOAS and UCL (as well as leaflets about Youth & Student CND). The activists, dressed as Town Criers, also carried a scroll, reading out the news in true Town Criers' style, first ringing a bell. O yez! O yez!