Issue

April - May 2022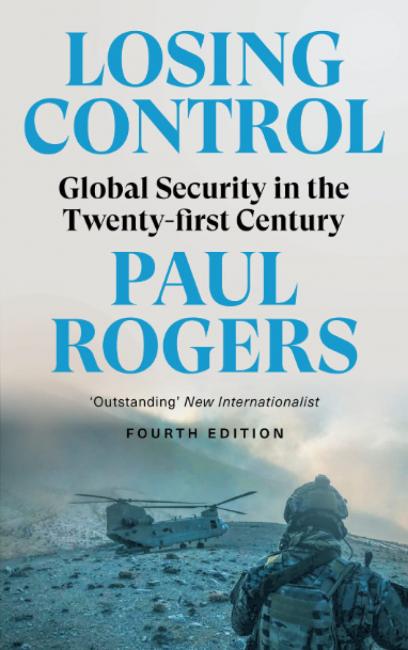 In the first year of COVID-19, while most of us were watching too much TV and just trying to stay sane, Paul Rogers was revising and rewriting his classic book on global security, Losing Control, to create this updated, enriched and unmissable fourth edition.
Among other things, he added a powerful new section on COVID-19 and the 'lethally slow' response of the UK. As part of this section, Rogers criticises the British government's decision in late 2020 to pre-empt an ongoing defence and security review by increasing military spending by 12 percent in the middle of a health emergency: 'A pandemic that had been the worst security catastrophe to hit the country in 75 years was not seen as having anything to do with security'.
Like previous editions, this version of Losing Control is a tour de force history of the 'war on terror' since 2001, now including an eye-opening chapter on 'Isis and After'. The intensity of the US-led air war in Iraq and Syria between 2014 and 2018 is hard to believe, with over 60,000 people killed in 28,000 airstrikes with 104,000 weapons.
The book is also a sustained and passionate argument for seeing economic justice and environmental sustainability as core parts of international security. Chapter Four is actually called 'A Different Security Paradigm', but a concern for economic justice and the environment runs through the whole book.
Britain's best-known peace researcher also gives us an excellent overview of the nuclear arms race – during and after the Cold War (there are some very useful pages on Russian nuclear policy since 1991).
Chris Cole reviewed the third edition for PN way back in 2011. His words are quoted in the opening pages – they sit alongside praise from mainstream security analysts like Michael Clark of the Royal United Services Institute military thinktank.
Paul Rogers' genius is that he bases a radical, utopian vision of security on a deep knowledge of the facts and he frames it in down-to-earth, common-sense, persuasive language. This is a book you could give to anyone with an interest in world affairs, whatever their political views or level of knowledge.
As rear admiral Richard Cobbold is quoted as saying in the opening pages: 'Paul Rogers is one of those dangerous people who can change your mind.'