Issue

April - May 2022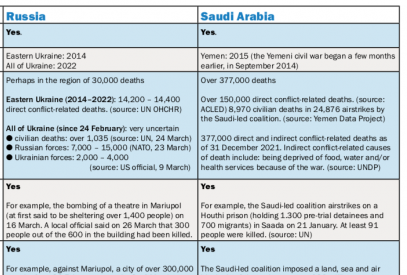 Boris Johnson told the Conservative spring conference in Blackpool that the Ukraine war was 'a moment of choice... a choice between freedom and oppression', where victory for Russia would be 'a green light for autocrats everywhere.' (19 March)
He had already given that green light to the autocrats by backing the Saudi war in Yemen wholeheartedly, ever since he became foreign secretary in 2016.
Saudi Arabia's record on democracy, freedom and human rights is even worse than that of Russia.
The US government-funded rights group, Freedom House (which has a bias towards US allies) gave Saudi Arabia a freedom score of 7 out of 100 in 2021. Russia's freedom score was 20 out of 100.
On political rights, only nine countries had a worse score than Saudi Arabia. On civil liberties, only seven countries had a worse score than the kingdom.
On LGBT rights, everyone knows that Russia has a terrible record, but at least sex between men has been legal in Russia since 1993.
In Saudi Arabia, sex between men is not just illegal, it carries the death penalty. In January 2002, three men were publicly beheaded for being gay.
It makes perfect sense, therefore, for Boris Johnson to fly to Riyadh on 16 March to enlist Saudi Arabia as an ally of freedom and democracy in the fight against Russian autocracy.
The wrong kind of coup
Saudi Arabia is not solely responsible for the human suffering in Yemen, but deliberate Saudi policies have prolonged the war and contributed massively to Yemen being one of the worst humanitarian crises in the world.
Saudi Arabia has carried out a deadly campaign of airstrikes against civilian targets.
It has imposed a crushing naval blockade that has had a devastating effect on the civilian population.
The US and UK governments pretend that this violence has legitimacy because Saudi Arabia was invited in by president Abd Rabbu Mansour Hadi.
Hadi is the mirror image of Ukraine's Viktor Yanukovych, the pro-Russian former president who fled his country after massive protests and who was removed in a coup in 2014. Hadi also faced massive protests and a coup, and fled his country in 2015.
If Hadi had aligned himself with Iran, he would now be a nobody like Yanukovych.
Instead, Hadi became a client of Saudi Arabia, a US ally, so he is now 'the internationally-recognised government of Yemen'.
---------------------------
Is this country (in March 2022) attacking a neighbouring country?
Russia: Yes.
Saudi Arabia: Yes.
When did the military intervention by this country begin?
Russia:
Eastern Ukraine: 2014
All of Ukraine: 2022
Saudi Arabia: Yemen: 2015 (the Yemeni civil war began a few months earlier, in September 2014)
How many deaths have there been in this conflict so far (as of 24 March 2022)?
Russia: Perhaps in the region of 30,000 deaths
Eastern Ukraine (2014–2022): 14,200 – 14,400 direct conflict-related deaths. (source: UN OHCHR)
All of Ukraine (since 24 February): very uncertain
 civilian deaths: over 1,035 (source: UN, 24 March)
Russian forces: 7,000 – 15,000 (NATO, 23 March)
Ukrainian forces: 2,000 – 4,000 (source: US official, 9 March)
Saudi Arabia: Over 377,000 deaths
Over 150,000 direct conflict-related deaths. (source: ACLED) 8,970 civilian deaths in 24,876 airstrikes by the Saudi-led coalition. (source: Yemen Data Project)
377,000 direct and indirect conflict-related deaths as of 31 December 2021. Indirect conflict-related causes of death include: being deprived of food, water and/or health services because of the war. (source: UNDP)
Have the armed forces of this country directly targeted civilians and/or civilian infrastructure
Russia: Yes
For example, the bombing of a theatre in Mariupol (at first said to be sheltering over 1,400 people) on 16 March. A local official said on 26 March that 300 people out of the 600 in the building had been killed.
Saudi Arabia: Yes
For example, the Saudi-led coalition airstrikes on a Houthi prison (holding 1.300 pre-trial detainees and 700 migrants) in Saada on 21 January. At least 91 people were killed. (source: UN)
Have the armed forces of this country used siege tactics against civilians, cutting off essential supplies?
Russia: Yes
For example, against Mariupol, a city of over 300,000 people, from 28 February onwards. On 4 March, the mayor of Mariupol, Vadym Boychenko, said that residents of the city no longer had heat, running water or electricity. The city has been subjected to heavy Russian shelling of civilian targets, including the maternity hospital. Shelling continued even during supposed ceasefires for humanitarian evacuations.
Another example is Chernihiv in northern Ukraine, where 140,000 civilians were doing their best to survive without running water, electricity or heating as we went to press. The city is reported to have suffered even more destruction from bombing and shelling than Mariupol, with most of the suburbs said to be 'completely destroyed'.
Saudi Arabia: Yes
The Saudi-led coalition imposed a land, sea and air blockade of the entire country of 28 million people from March 2015 onwards. Yemen imports 85 percent of its food and medicine. The Saudi naval blockade creates months of delays for cargo ships, meaning higher prices and fewer goods, contributing to the collapse of the whole economy. l Fuel vessels currently have to wait an average of 112 days in a Saudi-imposed holding area, leading to fuel shortages and higher prices. As a result, in March, hospitals were having to turn off ventilators and incubators and close operating rooms. l Save the Children say: 'More than eight million children are on the brink of famine and in desperate need of access to life-saving healthcare. Even before this fuel crisis, Yemen's healthcare system was on the verge of collapse. We fear that without urgent action, the situation in Yemen will become catastrophic.' (14 March).
What is the worst-case scenario if the conflict continues?
Russia: Nuclear war, leading to a 'nuclear winter' and the end of organised human society.
Saudi Arabia: Famine. (For every 5,000 people, at least one dies daily because of starvation – or severe hunger and disease.)
How likely is the very worst-case scenario?
Russia: Low probability
NATO and Russia are both avoiding direct military confrontation.
NATO is even restricting the weapons that it supplies to Ukraine (no tanks or jets) to avoid the risk of provoking direct confrontation with Russia.
Saudi Arabia: High probability
19 million Yemenis are already projected to be going hungry by the end of the year. 2.2 million children under the age of five are acutely malnourished.
UN agencies and international aid groups say 161,000 people in Yemen are likely to experience famine (see above) over the second half of 2022.
Are sanctions being applied by the UK to this country because of its attacks on its neighbour?
Russia: Yes
Since 24 February, the British government has imposed asset freezes and travel bans on over 1,000 Russian organisations/companies and individuals (including 386 of Russia's 450 MPs). The UK has also imposed a ban on the export to Russia of military/civilian dual-use goods, critical-industry goods and high-end luxury goods. It has also put new import tariffs on hundreds of key products imported from Russia. It has also banned financial dealings with certain Russian banks. It has also banned Russian ships from entering UK ports and Russian airplanes from Aeroflot from landing at UK airports.
Saudi Arabia: No
No Saudi individuals or Saudi institutions have been sanctioned for the war in Yemen. No financial or trade sanctions have been imposed on Saudi Arabia. Instead, the UK begs for more Saudi oil and continues to arm the kingdom. The Campaign Against Arms Trade (CAAT) says: 'The published value of UK arms licensed for export to the Saudi-led coalition since the bombing began in March 2015 is £8.4 billion (including £7.0 billion to Saudi Arabia alone); however, CAAT estimates that the real value of arms to Saudi Arabia is over £20 billion, while the value of sales to the Coalition as a whole (including UAE and others) is over £22 billion.'