Issue

June - July 2021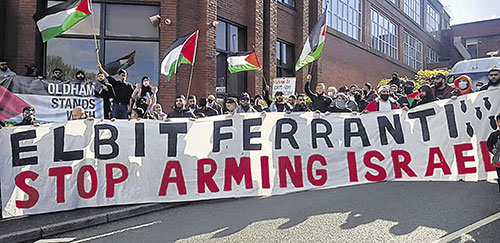 On 11 May, following Israeli assaults on Gaza and Jerusalem, over 150 protesters shut down the British head office of Elbit Systems, an Israeli arms firm with 10 factories and offices in the UK. Three people were arrested.
The action was called by Palestine Action.
According to Palestine Action, the direct action campaign which called the 11 May blockade, Elbit produces the baton rounds 'which have claimed eyes and limbs in Jerusalem', and provides drones used for Israeli attacks on Gaza.
In mid-May, the crown prosecution service adjourned the first-ever Palestine Action trial, which was due to have started on 17 May. The five were being prosecuted for occupying one of Elbit's factories for three days last year, causing £181,000 of company losses.
Palestine Action believes the case will now be merged with more serious 'conspiracy against Elbit' case, increasing the possible penalties.
The main conspiracy charge is conspiracy to commit criminal damage without lawful excuse against Elbit Systems and their landlords.
One group of six activists charged with conspiracy were planning to plead 'not guilty' at a plea hearing on 28 April – on the grounds that they had the lawful excuse of preventing the war crimes that Elbit enables.
The plea hearing has been postponed indefinitely and the six remain on bail on condition they don't return to the four Elbit premises targeted.
During a police interview, one PA activist charged with conspiracy to commit criminal damage to Elbit property, Emily Arnott, was told that actions by PA against Elbit could be considered 'terrorism' and they could be charged under anti-terrorism laws.
Another 'conspiracy' defendant, Richard Barnard, was asked by police: 'You [PA] aren't a proscribed organisation yet, but don't you agree that your actions are akin to terrorism?'
Two for one
On 13 April, the group carried out actions at two places at once. They occupied and blockaded Elbit's arms factory in Oldham and targeted Elbit's HQ in Bristol.
In Oldham activists sprayed computers with red paint, broke windows, chained themselves to the premises, stuck 'war crime scene' barrier tape across the front doors and unfurled pro-Palestinian banners.
Five people were arrested, two on suspicion of criminal damage and three on suspicion of burglary.
In Bristol, activists occupied the roof, put up posters and sprayed red paint over the building.