Issue

June - July 2021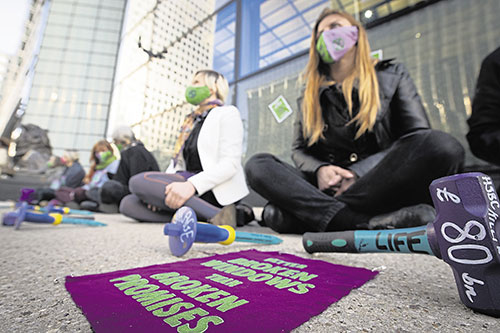 The United Nations will host the 26th UN Climate Change Conference of the Parties (COP26) in Glasgow from 1–12 November, COVID-19 permitting. Climate emergency activists and campaigners up and down the UK are planning actions to take advantage of the fact that the biggest climate summit since the 2015 Paris Agreement is happening on their doorsteps.
Greenpeace UK told us that they were going to be raising awareness of government action and inaction in the run up to COP26.
In the run-up to the 6 May elections, Friends of the Earth ran online Climate Debates for both London Assembly candidates and for mayoral candidates from places such as Cambridge, West Yorkshire and Bristol.
We asked Labour for a Green New Deal about their plans for campaigning in the approach to COP26. They replied: 'Currently we're still working on that very subject, so within the next few months are hoping to announce what we'll be doing in the run up to COP26.'
In Scotland, there is going to be a Climate Fringe Week (18–26 September) with a host of different events, ranging from open mic poetry and climate ceilidhs to political hustings and climate-themed church services. The organisers (the Stop Climate Chaos Scotland coalition) are also planning for the Glasgow conference itself, with a 'host an activist in your home' section to their website, for example.
Direct action
Part of the build-up to COP26 is the G7 leaders' meeting in Cornwall from 11–13 June.
The climate direct action group Extinction Rebellion (XR) says: 'We're planning a series of COVID-safe, nonviolent mass participation actions across mid-Cornwall; from Carbis Bay and St Ives to Truro, Falmouth and beyond. We will be on the beaches, headlands and town streets bringing our message to the G7: We're Drowning In Promises; Act Now!'
XR are also encouraging their supporters to attend the People's Assembly Against Austerity's national demonstration in London on 26 June, both in solidarity and to help build a network of activists, a 'movement of movements' across various causes, based on shared values.
In a video on their website titled 'The Next UK Rebellion', an unnamed XR organiser said: 'now is the time to mobilise around values the whole movement of movements can share; care, kindness, friendship. Unifying values. Now is the time for us all to pull together.'
He went on to say: 'But we have to be realistic – COP is going to disappoint us. It's going to be a clusterfuck of reformist, business-as-usual and lobbyist greenwash and we need to anticipate that.'
On 27 June, also in London, XR are planning an event they are calling 'Free the Press': 'we demand a press that is fit for purpose, a democracy that serves the people, and a country that is united against hate & prepared to face the challenges ahead.'
XR is referring to these two days of planned action as 'An Uprising Weekend'. Their website also promises that dates for an 'End of Summer Rebellion' will follow, with the aim of influencing COP26: 'All of our action this year will build pressure on leaders at COP26, which rebels are already planning hard for.'
XR is also holding COVID-safe 'Rebellion of One' actions this year, where rebels, with a support team, are employing the now-familiar XR tactic of blocking roads to raise awareness of the climate emergency. There are also a number of 'Digital Rebellion' acts that have taken place, including online training and meetings.
Finally, XR are beginning a 'Money Rebellion', which includes publishing guides on how to move to a more ethical bank. Some 'Money Rebellion' activists are taking things one step further by acquiring personal debt from unethical banks, donating the money loaned by the banks 'to support those on the frontlines of environmental ruin', and then refusing to pay the debt on the basis of conscience.
Green towns
In terms of local action, the Marlow Energy Group, in the Buckinghamshire town of Marlow, has been hosting a series of online 'Ask the Expert' Zoom sessions, covering topics such as plastic waste and hydrogen cars.
Zero Carbon Guildford may be leading the way so far with the number and variety of initiatives they have planned as we come close to COP26.
Local activist Ben McCallan told us about the alliance of over 20 social and environmental groups they have built in Guildford, to enable all of the groups to 'team up to share resources, skills and experience to give us a better shot at tackling the root causes of the climate and ecological crisis (and the social impacts associated with it) rather than simply tackling the symptoms of our failing systems.'
He continued: 'We are opening a building, or "climate emergency centre" to act as hub which will be a focal point for education and engagement of the wider community on climate and biodiversity issues. Within the building we will also be platforming practical solutions that individuals, business and organisations can take to reduce their emissions, waste, and consumption footprints. The goal is to build a community-led climate action plan to help the borough achieve carbon neutrality by 2030.'
Zero Carbon Guildford has the support of the University of Surrrey, and collaborates with several of its departments.
They are also working with Guildford borough council and Experience Guildford, looking to develop and promote sustainable and regenerative ways of living and doing business in the local community. They are also working with a team of counsellors and wellbeing practitioners to develop a support programme to help the community cope with the mental health stresses associated with discovering the extent of the climate emergency.
Ben McCallan told PN: 'They will focus on re-engaging people with nature, to help counter our consumerist mindsets, whilst offering services to help residents deal with climate anxiety, depression, and grief, all of which are likely to escalate rapidly as the climate crisis escalates, and which, unless we begin building structures to help people cope with these emotions, will lead to an unprecedented mental health crisis.'
Zero Carbon Guildford are also hosting a 'Mock COP26' during which local schools will each represent a real COP26 delegate country.
Students will research the impact of the climate emergency on that country, the impacts of potential policy decisions including costs, before settling on the policy position they feel benefits their COP26 delegate country the most.
The schools will then come together to debate their various policy proposals and the most effective ways to achieve a global accord to tackle the climate emergency. They will also discuss how the thousands of lobbyists who attend each COP affect the chances of productive accords by promoting what Ben McCallan called 'entirely ineffective non-solutions such as carbon markets'.
If this event is successful, Zero Carbon Guildford hope to use it as a launchpad for an ongoing 'Schools Climate Council'.