Issue

June - July 2016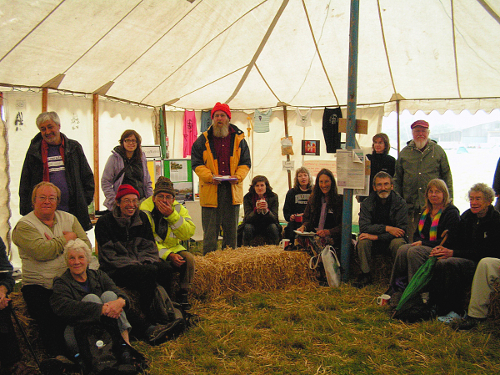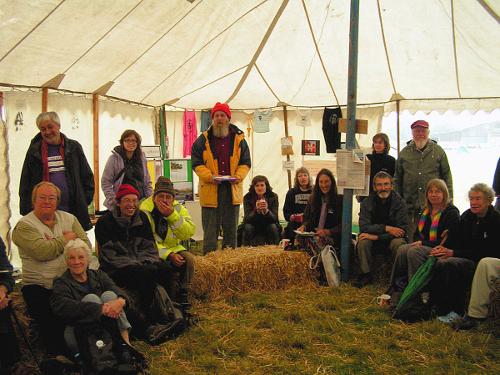 Please book now for a wonderful five days of family-friendly community and discussion! This year, the camp is called 'With My Hammer', to celebrate the 20th anniversary of the historic 'Seeds of Hope East Timor Ploughshares – Women Disarming for Life and Justice' action. Entertainment is provided by the mighty Seize the Day! a world-class political folk band.

The camp costs £20–£135 for over-14s; £5-£30 for people 1-14 (by parental income); under-1s are free. Food (three meals a day and drinks) costs £6–£12 a day for over-14s. Children's food is by donation. Food tickets are only available at camp.

Peace News Summer Camp, 28 July–1 August, Crabapple community, Berrington Hall, near Shrewsbury. More info and bookings: 020 7278 3344 or
www.peacenewscamp.info
Seeking collective liberation. A whole-camp participatory workshop giving us an opportunity to explore different kinds of oppressions which have an impact on us, and to consider creative responses to those oppressions in our groups and in our lives.
Seeds of Hope 20 years on! Women from the Seeds of Hope Ploughshares group celebrate 20 years after a Liverpool jury found that they had lawful excuse for hammering on a Hawk jet being exported to Indonesia (for use against the people of occupied East Timor).
Islamophobia and anti-refugee racism after the Brussels attacks. While there has been a huge drive by ordinary Europeans to welcome refugees, sections of the European media and some European politicians have gone beyond anti-immigration rhetoric to anti-multiculturalism – with heavy overtones of anti-black racism. Their scaremongering portrays migrants as a security threat. In the aftermath of the Brussels attacks, the danger is that xenophobia and Islamophobia 'from below' will combine with structural neglect of human rights 'from above'. With Liz Fekete, director of the Institute of Race Relations and author of A Suitable Enemy: Racism, Migration and Islamophobia in Europe (2009).
Drawing and printmaking. A chance to draw alongside, and to learn from, one of Britain's leading political printmakers, Emily Johns. Emily's most recent exhibition was 'Drawn to Witness', documenting a nature reserve at the site of a struggle between roadbuilders and campaigners.
Syria. Since the 2011 nonviolent uprising was met with government violence, more than 250,000 Syrians have lost their lives in the Syrian civil war. More than 11 million people have been forced from their homes. The Syria Campaign, launched in 2014, stands with Syrians against human rights abuses and oppression from all sides. The Syria Campaign believes: 'It is impossible to bring peace to Syria with the Assad regime in power'.
Taking the toys from the boys – militarism and gender. Is militarism – the exaltation of military virtues and ideals – a crucial prop for patriarchy and male dominance? Are men more 'warlike' than women, and how are notions of masculinity and femininity used to motivate people to support war? What is social militarisation? What are the bases or roots of obedience? Are women and men affected in the same way? With Yolanda Juarros Barcenilla, a teacher involved in peace education and antimilitarist groups.
Fossil Free forever! On 13 April 2016, less than three months after the launch of Fossil Free Hastings, Conservative and Labour councillors in Hastings united to unanimously pass a fossil fuel divestment motion, and to call on East Sussex county council to rid itself of £172m in oil, coal and gas investments. This workshop is a chance for campaigners from different areas to share their experiences, insights and strategies. Facilitated by Gabriel Carlyle of Fossil Free Hastings.
Sexual violence within radical social justice movements. The Salvage Research Project aims to create knowledge about the lived experiences of harm, violence and abuse in radical activist communities in the UK, and to work towards creating effective challenges to heterosexism within social justice movements and activist communities. It has a particular focus on exploring the experiences of survivors affected by sexual violence including women, gender-queer and transgender individuals. Approved by the Open University's Human Research Ethics Committee.
Worst. Meeting. Ever. We all want our meetings to go well, but.... This workshop is for facilitators who would like meetings to be enjoyably effective rather than endlessly endured!
If voting changed anything.... A chance to talk to the outgoing leader of the Green party about what is possible within the British political system. How can we make the changes that are so desperately needed? Why should people invest their time and energy in a political party, when they could just concentrate on grassroots campaigning? Also: what should we do after the EU referendum result? With Natalie Bennett, elected leader of the Green party in September 2012, after co-ordinating Camden Greens and co-founding the Green party Women's Group.
Working with difference in groups. This workshop offers a space to explore ways to bring differences within groups into the open and to experiment with how to work creatively with the tensions that inevitably arise. With trainers Jo Blackman and Clare Bonetree.
Accountancy for anarchists. Don't know the difference between income and cashflow? Are 'profit and loss accounts', balance sheets and forecasts gobbledygook to you? This whole-day basic financial literacy workshop was developed specifically for people in workers' and housing co-ops, but is useful for anyone trying to get more understanding (and control) of a group or organisation's finances. Facilitated by a member of the Catalyst Collective, a workers' co-operative offering free help and advice for and about housing and worker co-ops, plus a cheap registration service for new co-ops.
Abolishing war. It can't be done? That's what they once said about getting votes for women, or abolishing torture and the slave trade. We can move on. Hadrian's Wall is an ancient monument. Germany and France will never fight again thanks to European political unity. It is up to us to help to turn the dream of eliminating war into reality. With Bruce Kent, vice-president of the Movement for the Abolition of War.
Zylum – basic digital tools for campaign groups. Peace News has long had a vision of providing email lists, a website and an online document store for campaigners, a simple, easy-to-use, non-corporate bundle of basic digital tools committed to privacy and available for donation. That vision is nearly here! Come and find out about Zylum and become a tester before it launches.
Chomsky's politics. Intrigued by Noam Chomsky and want to know more? According to Chomsky, the mainstream media in the US and UK is free from state control, but at the same time functions very much like a state propaganda machine. With Milan Rai, author of Chomsky's Politics (Verso, 1993) and contributed to the Cambridge Companion to Chomsky (CUP, 2005).
Dealing with everyday militarism. Militarism is not just about wars and weapons and uniforms. Militarism is also part of our daily lives. It shows up in the way we shop, in the dozens of ordinary decisions we make every day, in the way we relate to each other. A chance to reflect on how we can help build peace in the most ordinary ways. With Yolanda Juarros Barcenilla, a peace activist based in Spain.
I can live with that – how to use consensus decision-making. Consensus decision-making (CDM) is not about making everyone happy. It is about making decisions in a way that includes and respects everyone's opinions and feelings. Unlike majority voting, CDM highlights different ways to disagree.
Make cake, not war – vegan baking for social justice. If you're tired of talking, but not tired of eating, come bake cakes for everyone! Run by Veggies, three-times winners of the Vegan Society's 'Best Vegan Caterer' Award.
No Trident replacement. The UK government is deciding whether to replace the Trident nuclear weapons system at a cost of £205bn. This is a moral outrage, particularly at this time of 'austerity'. How can we best use this once-in-a-generation opportunity to change public perceptions about nuclear security, and stop Trident replacement? With Cath Bann, Campaigns, Outreach and Communication worker at Yorkshire CND, and Bruce Kent, CND vice-president.
Peace News Readers' Meeting. Your chance to read some back issues, give feedback, suggest stories, criticise, praise, remember, predict, admonish, encourage, highlight, volunteer, donate, get tips, give tips, warn, warm, dream, wish, listen, gasp, laugh and become part of the PN story.
End of the road for roads? A place to talk about current and future anti-roads protest. Members of Combe Haven Defenders will share their rich experience of fighting the Bexhill-Hastings Link Road, and other early parts of the government's huge road-building programme, using nonviolent direct action, legal challenges and other forms of protest.
Crossing the Line – preparing for nonviolent direct action. A workshop for all levels of experience and confidence, from folk who've never risked arrest to people who've been in prison.