Issue

June - July 2016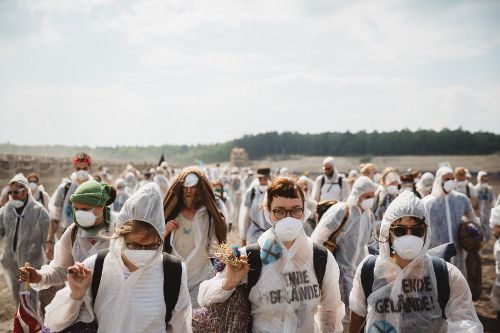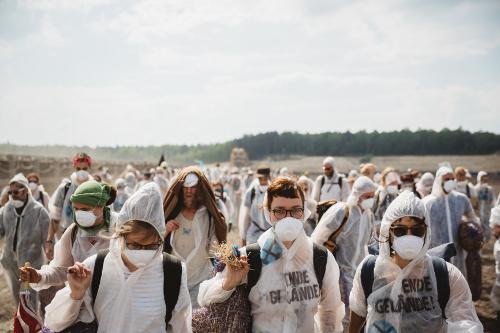 Heading for the Welzow-Süd opencast lignite mine in east Germany as part of the Ende Gelände mass climate action, 13 May 2016. Photo: 350.org Moritz Richter CC BY-NC 2.0
On 14 May, as part of an international climate action, 2,000 campaigners entered and shut down the massive Welzow-Süd opencast lignite coal mine, and its coal-loading station, in Lusatia in eastern Germany. The protest escalated on the following day as more protesters shut down the nearby Schwarze Pumpe lignite power plant by blocking coal trains and stopping long coal conveyor belts. The power plant's output was reportedly reduced by 80 percent.
The 48-hour Ende Gelände ('here and no further') mass action followed a week-long climate camp nearby, and was part of a co-ordinated global fortnight of climate action called 'Break Free'.
Other Break Free actions included: 2,000 people shutting down the world's largest coal port for a day, in Newcastle, Australia; 500 people blockading the road to Brazil's largest coal-fired power plant; hundred of kayakers protesting at a tar sands export terminal in Vancouver, Canada; 2,000 people encircling a coal ash dump in Aliağa, Turkey; and hundreds blockading rail tracks to two refineries in Washington state, USA.
Break Free organisers say the protests involved 30,000 people on six continents, including the Reclaim the Power camp at Ffos-y-fran in Wales (see p9).
Cool-headed nonviolence
Going back to the anti-coal and anti-nuclear network Ende Gelände, 'Every new tonne of coal that is dug up is one too many. We are hitting the emergency brakes today,' spokesperson Hannah Eichberger said on 13 May: 'We won't leave climate action to governments and corporations any longer. We are taking matters into our own hands now.'
To keep global warming below 2ºC, at least 80 percent of global fossil fuel reserves needs to stay in the ground.
However, German states plan to continue lignite mining for another 30 years. The Schwarze Pumpe power plant, which releases over 12m tonnes of CO2 a year, plans to operate beyond 2040, burning over 12m tonnes of 'dirty' lignite coal every year.
The 'action agreement' for Ende Gelände made clear that it was a nonviolent action – without ever using the word 'nonviolence':
'We will behave in a calm and cool-headed way. Escalation will not be provoked by us. We will not put people in danger. We will block and occupy with our bodies, but we will not destroy or damage any machinery.... Our action is not directed at Vattenfall workers or the police. The safety of the activists taking part, and of the pit workers, will be our top priority....'
Elsewhere on their website, the organisers wrote: 'Police lines or blocks may try to stop us on the way to the pit. We will avoid them or find gaps and flow through them. We're not going to let this stop us and won't let ourselves be drawn into possible police escalation strategies. We don't want to hurt anyone and are neither targeting police officers nor their vehicles. Our aim is to get to the mine and the tracks and sit down there.'
Only 120 people were arrested – at the occupation of the power plant, where two activists were hospitalised during arrests.
Pro-coal counterdemonstrators also attacked the protesters.
The Swedish owner of the mine and the power plant, Vattenfall, had asked police to remove the protesters from the mine, but, according to the broadcaster RT, a local prbbosecutor refused to authorise this action because, as the facility was not entirely fenced off, the occupiers could not legally be trespassers.