Issue

April 2015 - May 2015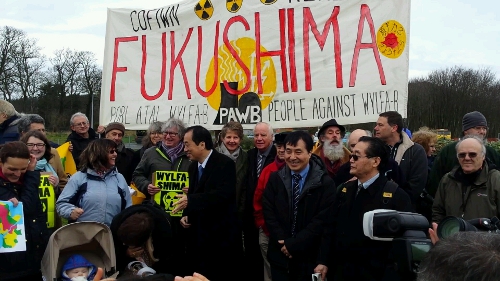 Generally, prime ministers and presidents are the last to admit they got something wrong. The sound of Tony Blair saying sorry is the sound of silence. So credit to Naoto Kan, Japanese PM at the time of the (ongoing) Fukushima disaster.
Formerly pro-nuclear, Kan makes no bones about getting it wrong. He came to Wales to warn that Wylfa B, Horizon Nuclear's proposed plant in Anglesey, would be a terrible mistake.
During the last few years members of anti-nuclear group PAWB (People Against Wylfa B), alongside campaigners from CND Cymru and Greenpeace, have visited Fukushima.
Kan's February visit was arranged by Dr Carl Clowes through Green Cross International in collaboration with PAWB, CND Cymru, Nuclear-Free Local Authorities, Greenpeace, FoE and the Welsh Language Society.
After visiting the Welsh assembly, Kan addressed a large meeting at Cardiff Pierhead. Next morning he was at Wylfa A power station, greeted by press and about 50 supporters.
The ex-prime minister then visited dairy farmer Richard Jones, who resolutely refuses to sell land occupied by his family for over 300 years to Horizon. Next was the county council in Llangefni, where Kan met councillors and members of the nuclear-biased 'Energy Island' scheme.
A public meeting in Llanfairpwll was packed to the rafters, with visitors from as far away as County Durham and Ireland. Kan's message was clear. It was not about tsunamis and earthquakes in the end, it was about everyday risk, human error, cutting corners, poor regulation....
Even a mundane accident could result in a radioactive wasteland. North Wales as a centre of farming and tourism in future? If Wylfa B is built, forget it. Kan's visit was a game-changer for the anti-Wylfa campaign. This was the testimony of a man who had been to hell and back.