Issue

October 2013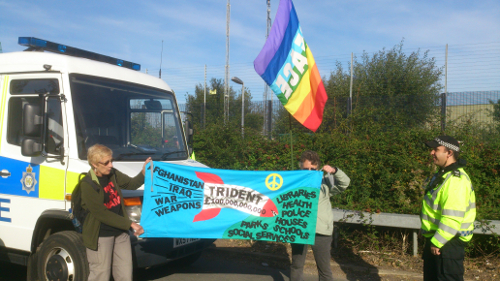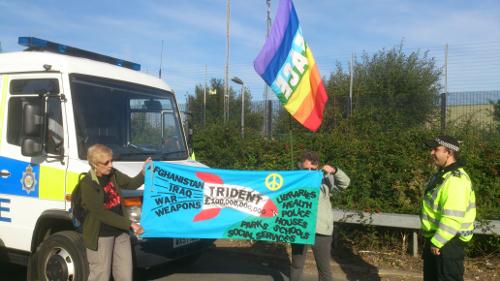 On 2 September, 21 people were arrested as Action AWE and Trident Ploughshares held an international – Argentine, Belgian, Dutch, English, Finnish, French, German, Japanese, Spanish and Scottish – blockade of AWE Burghfield in Berkshire. 'Atomic Weapons Establishment' Burghfield and AWE Aldermaston nearby are where Britain's nuclear weapons are produced. Action AWE and Trident Ploughshares held the blockade during their two-week summer disarmament camp outside the Burghfield bomb factory.

The blockade started at 5.15am, with many 'locking-on' – blockading by locking their arms together inside strong tubes making it difficult for police to remove them. Six Finnish activists stopped traffic at the main gate. When they were cleared away by police, they were replaced by members of the 'Muriel Lesters' affinity group from East London. There was no vehicular access to the factory for an hour.

Later, blockades by Scottish and Belgian activists were cleared from a second gate. A Spanish blockade of a second road to the main gate lasted for 14 hours with police taking no action.

The 21 arrests were all for highway obstruction. A Dutch woman refused a formal caution, was held overnight and given a conditional discharge in court in the morning, allowing her to return to the peace camp. Others from abroad accepted formal cautions to avoid having to return to court; those from the UK mostly refused cautions where offered, entered pleas of not guilty and were bailed on condition they did not return to the area till later court hearings.