Issue

April - May 2022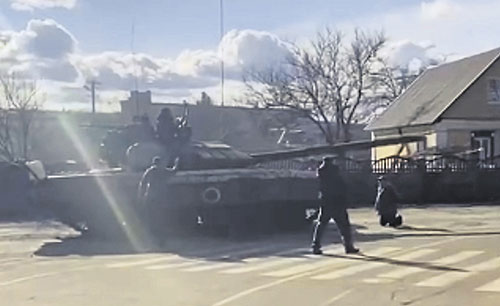 On 26 March, the people of Slavutych caught the imagination of the world with their nonviolent defiance, apparently driving Russian soldiers out of their city.
Slavutych, in the very north of Ukraine, was built in 1986 to house workers evacuated from the nearby Chernobyl nuclear power plant after the disaster.
Russian forces captured the power plant on the first day of the war, as it is right on the border with Belarus, a launching pad for the invasion. The Russian military had encircled Slavutych but not entered it.
On 23 March, Russian commanders gave an ultimatum to the city of 25,000 to surrender, which it refused to do. Russian troops then entered the city on 25 March and took the hospital. According to local media, they also kidnapped the mayor, Yuri Fomichev.
They were confronted by a large, unarmed demonstration against the occupation and used flash-bang grenades, stun grenades, smoke grenades and tear gas to try to disperse the crowd. The Russian soldiers also fired live rounds into the earth and into the air. One Slavutych resident was shot dead and two were wounded, according to a local official.
However, the occupation forces were unable to drive the Ukrainians out of the city square and they were forced to release mayor Fomichev.
He announced that the Russian troops had agreed to leave the city on condition that all weapons (apart from hunting rifles) were handed over. The Russians also said they would conduct a search for arms and Ukrainian soldiers.
Bravery and risk
This is just the latest example of Ukrainian nonviolent resistance which has developed in parallel with the armed resistance of the regular forces and volunteer militias.
US author and activist Daniel Hunter described some early signs of this in his valuable 27 February article, 'Ukraine's secret weapon may prove to be civilian resistance', on Waging Nonviolence: 'Ukrainian news outlet HB showed a young man using his body to physically get in the way of a military convoy as they steamrolled through the streets. Reminiscent of Tiananmen Square's "Tank Man," the man stepped in front of speeding trucks, forcing them to veer around him and off the road. Unarmed and unprotected, his act is a symbol of bravery and risk....
'In shared videos, unarmed communities are facing down Russian tanks with apparent success. In this dramatic recorded confrontation, for example, community members walk slowly towards the tanks, open handed, and mostly without any words. The tank driver either does not have authorization or interest in opening fire. They choose retreat. This is being repeated in small towns across Ukraine.'
Nonviolence researcher Maria J Stephan mentioned some other Ukrainian tactics in 'It's time to take inspiration from Ukraine and double down on global democratic solidarity', her own Waging Nonviolence article: '... the Ukrainian people are taking an incredibly brave stand, including through the use of civil resistance tactics like blockades, changing road signs, boycotting Russian products, satire and viral memes, and fraternization with Russian soldiers. All of this could prove decisive in ending Russian aggression and paving the way for a future Ukraine-Russia reconciliation.'