Welcome to Peace News, the newspaper for the UK grassroots peace and justice movement. We seek to oppose all forms of violence, and to create positive change based on cooperation and responsibility. See more
"Peace News has compiled an exemplary record... its tasks have never been more critically important than they are today." Noam Chomsky
Over 100 arrests in the run-up to DSEI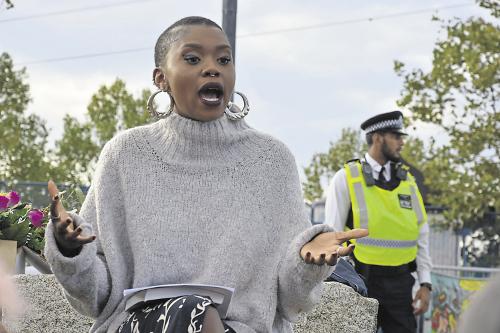 Lola Olufemi, one of many speakers of colour at the Conference at the Gates, gives a talk on 'Dismantling the Institution' on 5 September. Photo: CAAT
About 50 protesters were arrested for obstruction of the highway outside the ExCeL centre in East London on 'No Faith in War Day', 3 September. They were among hundreds who had blockaded – for nine hours – an access road being used to ferry in exhibits for the DSEI (Defence & Security Equipment International) arms fair.

The following day, 'No Nuclear Day', some 21 people were arrested, including members of Trident Ploughshares, the Mad Hatters (London) and the Gareloch Horties (from Scotland).

These arrests were part of a week of action obstructing the delivery of arms exhibits as part of the setting-up of the DSEI exhibition the following week.

In 2017, demonstrators were successful in holding up the transport for hours on end with the use of such aids as 'lock-ons'.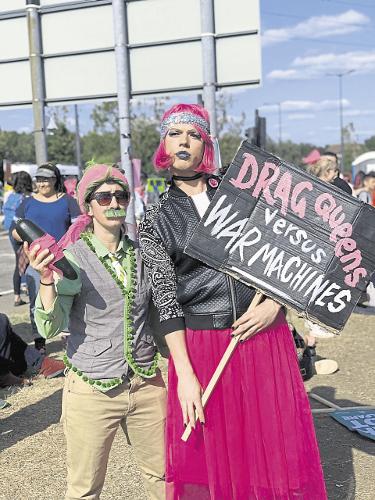 Protesting at DSEI on 8 September, Borders and Migration Day. Also there were young people from the Advocacy Academy, which supports young leaders from marginalised communities in South London to gain the skills and confidence to become campaigners for social change. Photo: Anna Vickerstaff.
Heavier policing

This year, it soon became apparent that police tactics were much heavier, with barriers and police lining both sides of the access roads to try to prevent protesters getting into the road to block it.

However, many still managed to get into the road and block lorries during the action week – including on the first day, 'Stop Arming Israel'.

Police were much rougher with protesters as well as more numerous than in 2017.

The 'No Faith in War Day' consisted of prayers and processions to the ExCeL centre by people of different faiths, as well the nine-hour Quaker meeting on the East Gate road.

On 'No Nuclear Day', both access roads to ExCeL were obstructed for a considerable time by people locked-on to two cars and an Extinction Rebellion boat on a trailer as well as through suitcases and tubes.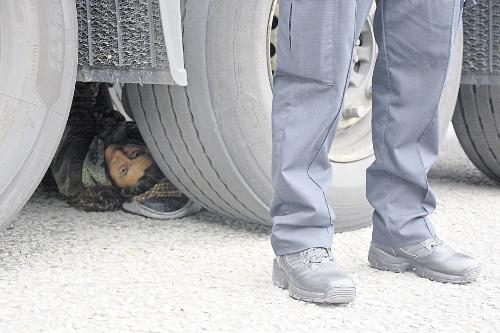 A lock-on underneath the vehicle halted one lorry bringing materials to DSEI through the East Gate on 6 September, the day to 'Stop the Arms Fair, Stop Climate Change'. Another person was arrested for having a tube of glue.Photo: Darren Johnson

Companies that manufacture nuclear weapons exhibit at DSEI.

Brian Quail, from Glasgow, said: 'I am sitting in the road here, utterly sickened and disgusted at what is going on, this obscene event and the killing that is going on in the Yemen, and the cops lining up dutifully to defend and protect the obscenity. It is utterly unspeakable.'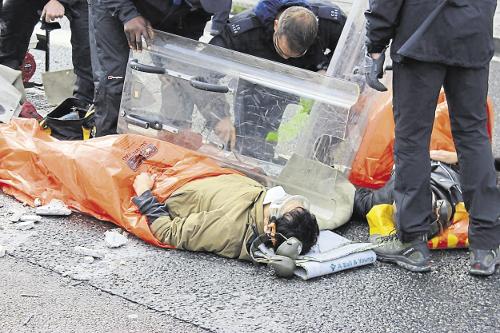 Activists from the Belgian peace group, Vredesactie (Peace Action), are cut out of their arm lock-on/blockade by police on 4 September, No Nuclear Day. Photo: Vredesactie
On the Thursday, a 'Conference at the Gates' was held with a series of workshops on 'understanding and resisting DSEI collectively.' Almost all speakers were people of colour.

Panels included: 'The Hostile Environment Policy in Higher Education' and 'Empire in Arms'.

Day 5, Friday, was entitled 'Stop the Arms Fair, Stop Climate Change', planned as 'a day of action and workshops'

An all-day 'Festival of Resistance' took place on the Saturday and a 'Borders and Migration' day on the Sunday rounded off the week of action.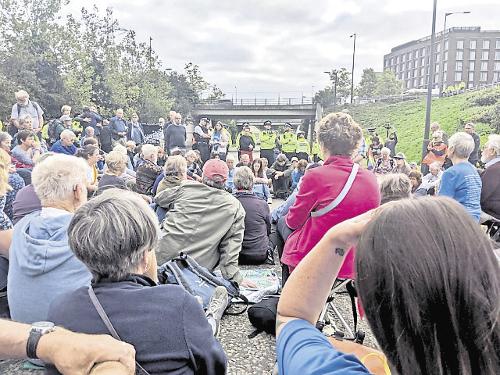 The East Gate was blocked from 7.15am–4.40pm by (at its peak) 700 people holding a Quaker meeting on 3 September, No Faith in War Day. Photo: Sam Walton