Issue

February - March 2017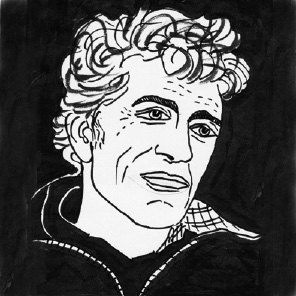 It has slowly dawned on me – readers may have spotted it sooner – that this column has often been a diary of life in Stroud. But what else could/should it be? 'Think global, act local.'

Turns out this phrase is attributed to several people, but it seems its earliest approximation appears, appropriately, in a 1905 treatise on town planning.

This set me thinking. The converse – 'Act global, think local' – should also be heeded.

The champions of global capitalism are indifferent and/or oblivious of the (literal) fallout from their megalomaniacal enterprises, whether they be chemical plants, nuclear power stations, nuclear weapons testing grounds, or the indiscriminate destruction of the natural environment for profit.

I recently bought a postcard – designed by a local artist – proclaiming 'The People's Republic of Stroud'. It reminded me that when, in 2002, the Windsors' golden wedding was celebrated (though not by me) with a party in our street, a neighbour displayed a long banner in her front garden saying: 'Welcome to The People's Republic of Rodborough'.

Now that's local thinking. For Rodborough – where we live – is a mere parish of Stroud.

It was my dear friend – and PN stalwart – Dennis Gould who was responsible for our coming to live in Stroud in 1999. Repeated visits here triggered our move from London and last December marked 50 years of our friendship.

It also marked 25 years since Dennis turned himself into a remarkable letterpress printer. He learned his trade in The People's Republic of Stroud and it's entirely characteristic of the town that his anniversary was recognised by a stunning exhibition of his hand-set postcards and posters.

It was one of the most extraordinary exhibitions I've ever seen: passionate, exuberant, spontaneous, inventive and highly original. Dennis' commitment to pacifism and anarchism shouted and sang from every wall and washing line from which his work was hung.

A finer example of thinking globally and acting locally it's hard to imagine and readers who've seen his work gracing PN's pages down the years will know just what I mean.

Dennis' exhibition was staged in the textile atelier (workshop) of our mutual friend, Katharina Child, whose commitment to acting locally shines from everything she does. To accompany the exhibition she arranged a series of print-related events; among them a talk by printmaker and PN production worker, Emily Johns, and PN editor Milan Rai.

Their excellent and well-attended talk 'Empire and Resistance: from the First World War to Trident' was preceded a week earlier by a visit from Peter Brown, who describes himself as being 'on permanent strike'.

Peter is the author of one of Dennis' favourite subversive novels, Smallcreep's Day, and they are old friends. His conversation with Dennis was another event which celebrated the importance of acting locally.

Of which, I'm sorry to reveal that an unlikely pall of gloom has hung over many Stroudies since the UK voted to leave the EU and Mr Trump became the president-elect of the USA. I don't share this gloom.

Our global future is uncertain but also full of possibilities. The first black president of the USA failed to deliver on his promise to close the abominable Guantánamo detention centre and his successor is the embodiment of global capitalism – take your sceptical pick.

The great – and much reviled – US poet, Walt Whitman, urged us to 'Resist much, obey little', and that's what most of the people I know and revere do.

Such activity meshes perfectly with thinking globally and acting locally and we need to remind ourselves that Greenham Common is no longer a cruise missile base but most of it has become accessible common land again.

So, one way or another, I feel quite optimistic. I'm always being accused by opponents of being a cynic. I'm not – I'm a hopeful sceptic. The work of people like Dennis and Katharina reinforces and confirms both words.