Issue

April 2015 - May 2015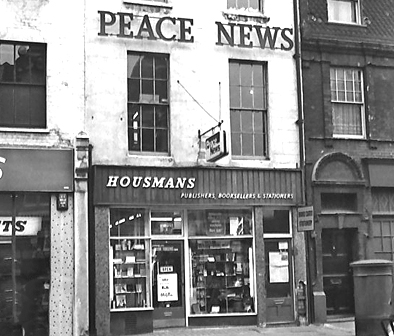 Peace News faced difficulties – both practical and political – whilst trying to continue as a pacifist publication during the Second World War. Although there have been threats to the existence of the paper occasionally since then, such problems have never been as frequent as during that era:
Messrs WH Smith & Sons distribute 10,250 copies of Peace News every week and other wholesalers, between them, 12,200.
Sir Arnold Wilson [a well-known politician and soldier] recently asked the Home Secretary to consider using 'defence regulations' to enable the newsagents 'to exercise in the public interest... discretion in the printed matter which they distributed'. Sir John Anderson replied that they have such discretion, and that he could not regard a regulation on this subject as necessary for the purpose of the Defence of the Realm.
Messrs WH Smith & Sons inform us that they have no intention of making any discrimination against us, believing that we have every right to express our opinion.
The wholesalers, however, have more control over individual retail newsagents in such matters than we have, and it may well be that some will be intimidated by direct or indirect suggestions of that kind. It is therefore more necessary than ever for pacifists to try to persuade their local newsagents to display Peace News and, if possible, a contents bill. The best way to do this is by guaranteeing the purchase of as many copies as possible.
While there may thus be individual efforts to make difficulties for us, there has this week been added a new difficulty of a more serious kind: another severe restriction on paper.
We hope to be able to give readers the present full service for another six weeks.
After that, however, the only way to maintain, let alone increase, our circulation of nearly 35,000 a week will be by cutting the paper in half or even more! So make absolutely sure you get your copy regularly – either from a newsagent or from your Peace Pledge Union group – by placing a firm order now.