Issue

December 2014 - January 2015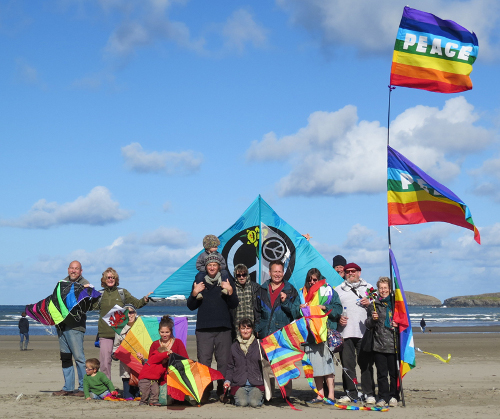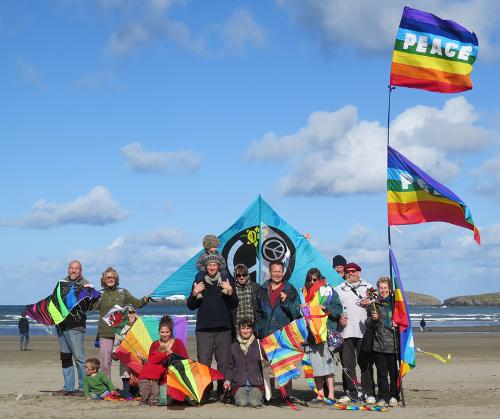 Kites not drones at Poppit Sands. Photo: Jill Gough
International Peace Day, 21 September, was celebrated by a 'Drape the Drones' event at Parc Aberporth. Protesters sealed off the roundabout and site entrance with colourful scarves – ably assisted by a friendly policeman who not only stopped the traffic but also ordered drivers to switch off their engines to 'hear the singing'.
The action was a precursor to the first Global Action Day Against the Use of Drones for Surveillance and Killing on 4 October. CND Cymru reported that campaigners in over 40 countries across the world took part in simultaneous creative direct actions, calling for a worldwide ban and demanding that governments stop producing and acquiring military drones, stop enabling them through infrastructure 'investment', and halt military drone R&D.
At Poppit Sands, Pembrokeshire, kites soared above the Teifi estuary. 80% of drone strike victims so far have been in Afghanistan where kite-flying is a national sport. CND Cymru national secretary Jill Gough said: 'Flying kites is a show of solidarity to all people who live in fear of these remote spying and killing machines. There is always money for war, never money for the poor'.
Meanwhile, Côr Cochion sang songs of peace in the Hayes, Cardiff, to protest Barclays Bank's investment in the Israeli arms company El-Bit. Côr Cochion's Wendy Lewis said: 'Drones have been used extensively in Gaza against the defenceless civilian population. Barclays Bank has the blood of more than 400 children killed in the August bombing of Gaza on its hands'.
A letter of complaint was handed to the bank manager and the choir sang: 'Barclays are funding the arms trade! That's how they keep profits high. Profit they put before people. They don't care how many die. Plenty of things need investment. Hospitals, schools and much more. People must come before profit. Tell them to stop funding war!