Issue

December 2012 - January 2013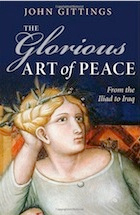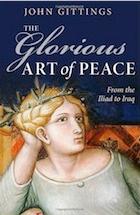 Polymath John Gittings – a Guardian journalist and associate editor of The Oxford International Encyclopedia of Peace, is a Sinologist, literary critic and classicist. He crams his considerable knowledge of history, art, literature, and languages into this personal review of peace through the ages, arguing for a 'peace discourse' to counter our current one obsessed with the glory of war and the culture of death.
Indeed, for Gittings 'The study of peace can be as exciting as the study of war and, far from [there] being little to say about it, it is an engrossing subject' – a fact he ably demonstrates.
The first four chapters analyse classical Greek and Chinese historical texts, as well as Shakespeare from a peace perspective, and from chapter five onwards we are given a condensed history of grassroots peace movements, the League of Nations and the United Nations, and events ranging from the Cold War to the 2003 invasion of Iraq.
The text is dense with references, expanded in endnotes for each chapter, and includes a useful bibliography and a comprehensive index.
The focus on the history and art of peace is unusual and compelling, and combines myriad quotes from historical writings (including original translations by the author) with a scholarly grasp of peace studies.
In his conclusion Gittings is optimistic about the future, sensing a globalised and popular impetus for peaceful means of conflict resolution, with war having 'become almost completely deglamourised'.
Eminently readable, this book would make a great gift for the activist and sympathetic non-activist alike, providing inspiration from the glorious heritage of peace activism down the ages.