Issue

December 2012 - January 2013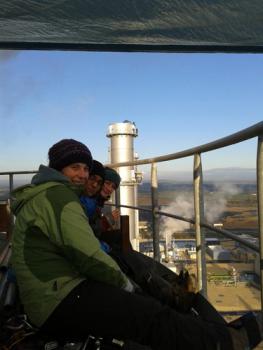 I've protested against coal: helping to organise the Climate Camps at Kingsnorth and at Drax; debunking the hype about 'clean coal' for Corporate Watch; and taking part in a Coal Caravan visiting open cast sites across the North East. And, in a lot of ways, we have won on coal: Kingsnorth has been shelved, and existing coal power stations are coming to the end of their lifespans with new plans stuck at the starting blocks. But the answer hasn't been the clean green future we've all been dreaming of, and trying to build for. The answer has been gas.
Gas is still a fossil fuel, still part of the dinosaur energy economy that we're fighting against, still energy that's reliant on imports and that would plunge more people deep into fuel poverty even if we went down the earth-shakingly stupid option of fracking. And the government has admitted that the dash for gas would mean breaking our (already meagre) commitments under the Climate Change Act. It's like putting a fire out by piling more wood on rather than dousing it in petrol.
The 15 of us that scaled the chimneys and occupied West Burton — one of the first of 20 new gas fired power stations - had a number of objectives.
Firstly, the power station is still under construction and we knew that only the middle one of the three chimneys was in constant use. We wanted to stop the power station emitting carbon dioxide by shutting off that chimney. Job done. Nearly 20,000 tonnes of CO2 emissions were prevented by our occupation, and other power stations were not brought online as West Burton is not currently feeding into the grid.
Secondly, we wanted to show that the climate change movement that opposed coal will also oppose gas, and that we will put ourselves in the way of the construction and operation of new gas fired power stations and government plans to go for gas over renewable energy.
Thirdly, we wanted to wake the UK up to the Tories' 'dash for gas' plans and to connect the issue of new gas to fracking and fuel poverty.It was a tough action to be part of: walking through the night carrying 40kg of food and kit; running across the site fully-laden, knowing that the security had clocked us; dragging that god-awful load up 80 metres of stairs and ladders.
But once we were properly off the ground we knew we'd made it. The head-torches visible at the top of the other chimney showed that the other team had made it too. It was an incredible feeling, knowing that they'd find it impossible to get us down without a massive health and safety risk. And for me personally it was awesome to know that none of these friends were undercover cops!
Staying up the chimney wasn't as much of an endurance test as I thought it would be. The camaraderie was wonderful, the food... hot (!) and edible. The toilet situation, bearable. We were warm enough and dry enough. The only thing that made it really hard was the NOISE OF THE WIND ALL NIGHT. But, hell, this kind of thing has to be done and I'm proud to have been part of it.
What is the dash for gas?
EDF's West Burton is one of the first of 20 new gas-fired power stations (20GW) that the government plans to build by 2030.
Energy and climate change secretary, Ed Davey, has guaranteed that, if built, these stations will be exempted from emissions regulations and can continue emitting CO2 until 2045, ie their full life-span.