Issue

December 2012 - January 2013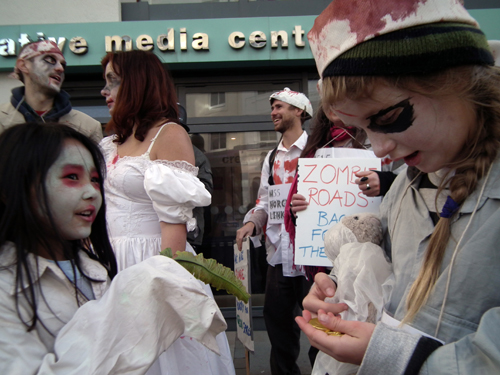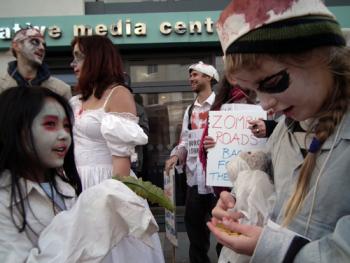 Zombie roads hungry for public money gather outside the office of Hastings MP Amber Rudd, 30 October. Photo: Milan Rai
On 30 October, campaigners against the Bexhill-Hastings Link Road (BHLR) staged a battle between 'road busters' and 'zombie roads' outside the office of Hastings MP Amber Rudd.
Combe Haven Defenders wanted to highlight her role – and that of the chancellor, George Osborne, to whom she is parliamentary private secretary – in promoting unsustainable and environmentally-damaging roads in Hastings and beyond.
The environmentally-disastrous £100m BHLR is one of over 40 'zombie roads' that were thought to have been cancelled years ago, but which have now been resuscitated as part of Britain's largest road-building programme in 25 years.
According to campaigners, these roads will mean more traffic, more localised pollution, more car dependency and increased carbon emissions.
Following their leader, the Bexhill-Hastings Link Road, a crowd of zombie roads (some of them very young) shuffled their way from Hastings shopping centre to Amber Rudd's office.
The Combe Haven Defenders are calling on 1,066 people from across the country to 'pledge to take part in peaceful resistance to the construction of the Bexhill-Hastings Link Road'.