Issue

July-August 2012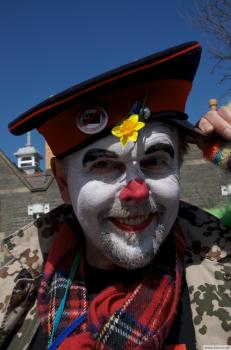 Some say the Clandestine Insurgent Rebel Clown Army (CIRCA) is dead but, luckily, we don't know it! Ever dutifool and never ones to shirk responsibility, we rose from our tombs to conduct another Big Shoe training camp for new recruits in Lampeter on the weekend of 16-17 June. What a feast of foolery, flashes of brilliance, fierce determination and fearless perseverance!
Lampeter hospitality and organising skills never fail and neither does their penchant (and stamina!) for having fun.
Wonderfully entertained by political balladeer Cosmo from Cardiff, local poet James Luchte, and Machynlleth-based band Quercus Burlesque – and fuelled by King's Head special Gorilla shots! – Rebel-Clowns-to-be partied together on Saturday night. Starting slightly less together on the Sunday morning training session, we schemed that Gorilla shots could be considered as a secret weapon but discarded the idea as evidence indicated they seemed more likely to turn out to be weapons of self-destruction.
But, against all odds, our ranks were swelled by another brilliant red-nosed Welsh gaggle, with most of them up for not marching on Faslane on Saturday 7 July and not being naughty anywhere near the Trident missile base on that day. Not to mention not contacting the peace camp about not gathering there for that weekend to celebrate their 30 years of resistance.
Remember, you heard it here first, CIRCA are certainly not alive and kicking!